Five treasured record shops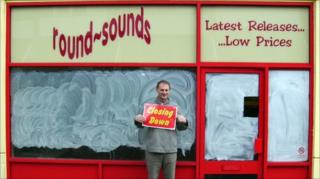 Continuing a series of features about the UK's changing music-buying habits, writer Graham Jones, pictured above, takes a closer look - and listen - at five of the country's most unusual record shops.
My claim to fame is that during the last 20 years, I have visited more record shops than anybody else that has ever lived.
Working for various music distributors, I would spend almost every weekday visiting about five stores all over England, Scotland and Wales.
Whenever a new record shop opened, I would be there like a shot, in an effort to ensure that my product filled their shops before my competitors approached them.
When I started my career, the UK had more than 2,000 independent record shops. Today only 269 remain.
Over the last five years, an independent record store has closed on average every three days.
It got me thinking: Wouldn't it be tragic if all the record shops shut down without anybody documenting their history
So I decided to tour the UK and interview the 50 record shops I believed would be the "last shops standing", to find out why they are still going when hundreds of others have bitten the dust.
I started off thinking I was writing the obituary of the record shop. Instead, my resulting book became a celebration of great characters who shared some amazing tales with me.
The UK still has some fabulous record shops, and here are just a few.
They all have one thing in common: they are run by knowledgeable staff who share a love of music and give great customer service.
1. ACORN RECORDS
Chris Lowe opened Acorn Records in 1973 in the Somerset town of Yeovil.
Acorn must surely be the only record shop in the world whose top selling CD is The Best of the Wurzels.
Another claim to fame is that it employs the oldest record shop assistant in the country in 83-year-old Mavis Slater.
Together with Anna Wood, the third member of staff, the team has 95 years of music retailing experience between them.
Following the closure of the town's musical instrument shop, Acorn now stocks guitar strings, straps, picks, leads and other accessories alongside drumsticks, recorders and ukuleles.
As well as a vast range of classic back catalogue and new releases, the store is famous for its £1 CD rack. Who says the internet is always cheaper?
2. CODA MUSIC
Ex-Virgin employees Dougie Anderson and Rose Norton own the folk specialist shop Coda Music in Edinburgh.
They say that they are fortunate to be in a city that already has a long legacy of traditional music, yet still has a vibrant music scene.
Coda has kept a good working relationship with the artists involved in making the music they sell.
They recognise that the music industry will only move forward with the emergence of up and coming new musicians, and have supported local artists by helping them with distribution and promotion.
Coda also keeps the shop interesting with live gigs, which have included Drever McCusker Woomble, Mumford and Sons, Karine Polwart and Seth Lakeman, to name just a few.
3. THE DISKERY
Morris Hunting opened The Diskery in Birmingham back in 1952.
Posters from a bygone era adorn the walls, including original Beatles, Elvis Presley and Eddie Cochran material, whilst the shop is filled with vinyl and music memorabilia.
The Diskery stocks an amazing collection of memorabilia including old wind-up gramophones, copies of Melody Maker from as far back as 1947, Matchbox cars and a selection of photographs from the Carry On movies.
And as well as CDs, it stocks an impressive range of vinyl including 78s.
Personally, I think they are missing a trick and should turn the shop into a music museum that stocks records and charge an admittance fee!
An endless supply of free tea entices customers to stay and browse for hours in the Aladdin's cave of a record shop.
4. DALES RECORDS
Dales Records can be found in the Welsh resort of Tenby.
In the summer, you will find the owner, Laurie Dale, sitting outside his shop exchanging banter with locals and holidaymakers while encouraging them to come in and browse.
Laurie and manager Richie Westmacott are both well known in the area: Laurie as a singer and actor, while Richie is a guitarist in premier Welsh Blues band Elephant Gerald.
Dales takes great pride in having many customers who first visited the store as 1960's teenagers and now frequent the store with their children and grandchildren!
It is immensely satisfying to see three generations of Dales' customers all in the shop at the same time.
The shop has a 15-ft high ceiling resulting in every inch of spare space being filled with CDs, vinyl, DVDs and T-shirts.
5. MUSE MUSIC
Known throughout Hebden Bridge as "CD Sid", Muse Music owner Sid Jones has realised his childhood dream - to open a unique record shop in his hometown.
The shop is stocked full of psychedelic and progressive rock and Sid's policy is, if he likes it - he stocks it!
To visit Muse Music is like being transported back to the hippy era.
The shop is adorned with psychedelic posters and Sid looks as if he should be playing in Hawkwind instead of running a shop.
Muse Music has an unusual best seller - Into The Electric Castle by Ayreon. Since its release in 1998, Muse have sold more than 500 copies.
This is down to Sid's enthusiasm for this album, the most played record in the shop. The album is a space opera spread over two CDs.
If Muse can sell 500 copies, then every record shop in the country should be stocking this!
'Culturally important'
Sadly, though, over the last few years, hundreds of my customers have had to close their shops.
From the wonderfully named Let's Buy Some Music in Hythe, Kent, to the eccentric Church Street Records in Manchester, whose owner would use a megaphone to shout ''Bargains! Bargains!" at the top of his voice, scaring his customers witless!
Record shops are an important part of our culture and are part of our community.
It is vital that they survive as they offer us diversity, supporting both new music and local talent.
Check out your local record shop - you won't regret it!
Graham Jones is the author of Last Shop Standing (Whatever Happened to Record Shops'?)