RBS and NatWest are fined £2.8m by FSA over complaints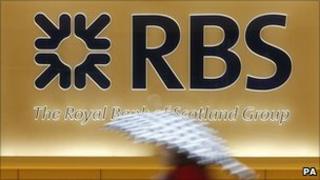 Royal Bank of Scotland (RBS) and its NatWest subsidiary have been fined £2.8m for failing to deal properly with customers' routine complaints.
The Financial Services Authority (FSA), which imposed the fine, said there was an "unacceptably high risk" that the customers had been treated unfairly.
The banks' main failings were delays, shoddy investigations and inadequate explanations.
RBS acknowledged its complaints handling had been poor.
"We recognise the importance of complaint handling for our customers and are focused on addressing the root causes of complaints," said Brian Hartzer of RBS.
'Major changes' needed
The poor performance of the RBS and NatWest staff came to light in the autumn of 2009 when the FSA was investigating the way all the UK's main banks had been dealing with complaints.
It found problems with more than half of a small sample of complaints it examined at RBS and NatWest.
For instance, in 62% of cases the complaints were not dealt with in time and the customers had not been told they could go to the Financial Ombudsman Service (FOS) if they were still dissatisfied.
The FSA said the blame lay with poor training and guidance for the bank staff assigned to dealing with complaints, and inadequate monitoring of their work by managers.
"We expect firms to treat customers fairly and that consumers can be confident that their complaints will be dealt with properly," said Margaret Cole, the FSA's managing director of enforcement and financial crime.
However, the FSA said the banks' behaviour had not been "deliberate or reckless" and they had not "intentionally profited" from their mistakes.
New rules coming
Last year, the FSA severely criticised the poor way UK banks dealt with complaints.
As a result of its industry-wide review, it told all the banks to improve their procedures.
As part of this process, the regulator has also been consulting on new rules for the industry. It has proposed:
an end to bank letters that reject complaints but fail to explain that customers can challenge this and go to the Financial Ombudsman Service
stipulating that banks identify a senior manager responsible for complaints handling
putting in remedies for common complaints
raising the maximum compensation level that can be ordered by the Ombudsman from £100,000 to £150,000.
The banks and the FSA itself now publish data every six months on how many complaints banks have received, the type of complaint, and the outcome.
The FSA pointed out that at RBS and NatWest it had only examined the way routine complaints were dealt with.
Its findings did not cover complaints about the mis-selling of payment protection insurance, or bank overdraft fees, which have generated hundreds of thousands of complaints to the major banks in the past few years.