FA signs Vauxhall sponsorship deal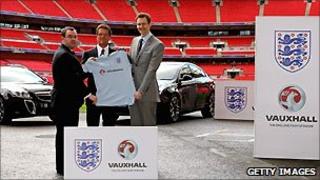 The Football Association has unveiled a new three-and-a-half year sponsorship deal with carmaker Vauxhall.
The multi-million pound deal comes six months after Nationwide building society ended its 11-year FA deal.
The car firm is also set to complete further deals with the national associations of Scotland, Wales and Northern Ireland within the next week.
And as part of those deals, a one-off revival of the Home International championship could take place.
The contest, involving England, Scotland, Wales and Northern Ireland, ran from 1884 to 1984, before being scrapped as England and Scotland lost interest.
'Major landmark'
The Vauxhall sponsorship agreement runs from 1 January 2011 to 31 July 2014, covering the time period of Euro 2012 in Poland-Ukraine and the 2014 World Cup in Brazil.
As well as covering the men's national team, the deal also covers sponsorship of the other 23 representative England teams.
That includes the women's teams, men's youth teams and all the England disability sides.
It will also see Vauxhall become the official vehicle supplier to the FA.
"This announcement represents a major landmark for the FA and the England teams," said FA general secretary Alex Horne.
He added: "Through a difficult economic climate, we have concluded a deal of considerable value to the FA and we can now look forward with optimism.
"Everyone is aware of the difficulties of last year, but we have an opportunity to move forward and there is much in 2011 to be excited about."
Other England commercial partners include Umbro, McDonald's, Tesco and Carlsberg.
'Grass roots initiatives'
Vauxhall managing director Duncan Aldred said Vauxhall had a strong history of supporting football in England, including official sponsorship of Euro 96.
"Vauxhall is firmly behind not only a successful England senior team, but is also committed to supporting grass-roots initiatives covering youth and junior football, as well as women's football and disability football," he added.
It is understood the car giant had been keen to get the Home International tournament in place for 2011/12 season
But the FA told BBC Sport it is investigating the proposal as part of its 150th anniversary in 2013.
"We're talking to the home nations about a possible one-off round of matches with them," said FA general secretary Alex Horne.
This year, Scotland, Wales and Northern Ireland are involved in their own tournament, the Celtic Cup - also known as the Carling Nations Cup - with the Republic of Ireland.