Renault spy scandal: China denies involvement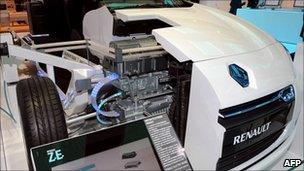 China has denied any involvement in an industrial espionage scandal involving French car maker Renault and alleged leaking of electric car technology.
The scandal has rocked France, with a legislator saying last week that there were indications of Chinese involvement.
But Chinese foreign ministry spokesman Hong Lei said the claims were irresponsible and unacceptable.
He said the government had seen the reports but found they were groundless.
"We have taken note of the relevant report," Mr Lei said.
"As for the so-called story that China is involved, we believe this is totally groundless, irresponsible and unacceptable."
Last week, French politician Bernard Carayon, an expert on industrial espionage, said "proven, diverse and reliable" sources pointed to an effort to obtain secrets from three Renault executives.
The trio were suspended by the carmaker last week.
"There are in effect several sources that are typically thought to be serious who consider that a Chinese buyer is in fact behind this operation," Mr Carayon, a member of President Nicolas Sarkozy's UMP party, had said.
France's industry minister has refused to speculate whether China was involved.
Renault, which with its partner Nissan of Japan has invested $4bn to develop electric cars, has said it plans to take legal action.
Nissan's Leaf electric car was recently launched in the US and Japan.
Related Internet Links
The BBC is not responsible for the content of external sites.