Intel settles with chip maker Nvidia for $1.5bn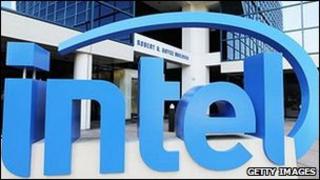 The world's biggest micro-chip maker Intel has agreed to pay its smaller rival Nvidia $1.5bn (£965.2m) to use its technology.
The move brings to an end a legal dispute that began in 2009.
Intel had sued Nvidia, a graphics chip maker, over the right to keep making an Intel designed chip. Nvidia then counter-sued.
Intel now has the right to use Nvidia technology at a time when graphics processing is increasingly important.
"This agreement ends the legal dispute between the companies," said Doug Melamed, Intel senior vice president and counsel. "It also enables the companies to focus on innovation and the development of new products."
Intel is the dominant market player supplying micro-processors for 80% of the world's personal computers.
However, the sector is changing rapidly as computing becomes more mobile.
Hand held computers, smartphones and tablet computers require high-definition video.
The amount that Intel has agreed to pay in Monday's settlement reflects the importance of Nvidia's graphics technology to the chip-making giant, which is keen to take a slice of the mobile computing market.
"This agreement signals a new era for Nvidia," said Jen-Hsun Huang, Nvidia's president and chief executive.
"It also underscores the importance of our inventions to the future of personal computing as well as the expanding markets for mobile and cloud computing."
Nvidia is pushing for its chips to be used for other complex processing uses that could challenge Intel's dominant market position.
However, under the terms of the deal, Nvidia will not have the right to use Intel's main technology, its processors built on the the x86 design for PC's.