China overshoots 2010 lending and money supply targets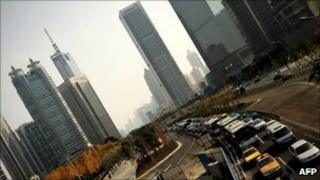 China failed to remain within its bank loan and money growth targets during 2010, the central bank has said.
Chinese banks issued 7.95 trillion yuan ($1.2tn; £0.77tn) in new local-currency loans last year, more than the 7.5tn yuan the government wanted for 2010.
And the money supply grew by 19.7% last year, ahead of official targets of 17%.
Also a $199bn increase in foreign exchange reserves in the fourth quarter pushed China's pot of foreign currency, the world's biggest, to $2.85tn.
Credit growth
China has vowed to tighten monetary policy and cut back on lending to its citizens as it aims to make tackling inflation a priority in 2011.
In November, inflation hit 5.1%, the highest rate in two years.
In December, the central bank put up interest rates for the second time in less than three months.
And at the end of last year it raised the amount of money that lenders must keep in reserve.
Chinese banks issued 481bn yuan in new loans in December, down from 564bn yuan in November and the lowest amount in a year.
"The data showed strong credit and money supply growth, which indicates that credit tightening by the regulators is not sufficient yet," said Hu Yuexiao, economist with Shanghai Securities.
Key data to be released later this month is expected to show the Chinese economy grew by more than 10% last year.