UK economic growth rate slowing, BCC says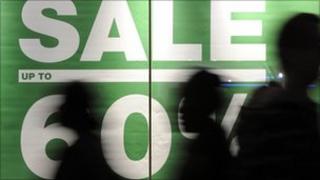 UK economic growth slowed in the fourth quarter of 2010, "raising concerns about a sustainable recovery", the British Chambers of Commerce (BCC) has said.
It estimates the economy expanded by 0.4%-0.5% in October-December, a slowdown on the latest official growth figure of 0.7% for July-September.
The BCC says the reduced output was a result of service sector weakness.
By contrast, it said manufacturing output was up strongly, led by exports.
The BCC concluded that while a new recession was "unlikely", risks remained.
David Frost, BCC director general, told the BBC: "The manufacturing sector is growing very strongly and is a star performer, but the service sector is undoubtedly acting as a drag.
"The manufacturing sector is being driven by exports, not least to the growth areas on the far side of the globe, but the service sector is suffering from a lack of confidence with consumer spending being reined in."
'Disturbing'
The BCC came to its findings following a survey of 5,600 respondents.
It found that export orders and overall sales of manufacturing goods were at their highest level for 16 years.
However, it cautioned that UK manufacturers were worried that the continuing public debt woes in the eurozone may start to reduce demand for UK-made products in that region.
David Kern, BCC chief economist, said: "The disappointing performance of the service sector is disturbing, particularly as we are yet to see the full impact of the VAT increase, and deficit-cutting measures on these firms.
"Unless reversed, weaknesses in services could have adverse consequences, particularly for jobs.
"While we expect the private sector to prove sufficiently robust to withstand the impact of the tough deficit reduction programme, the UK recovery is fragile."
The BCC said both the government and the Bank of England must "act forcefully to support growth".
It said the Bank must maintain low interest rates until the recovery is more secure, while the government must do more to support exporters, and cut labour market regulations.
Mr Frost added: "Faced with public sector cuts and cost pressures, ensuring the health of UK businesses is critical to a sustained economic recovery.
"We call on the government to take concerted action now to ensure recovery continues."
The BCC's findings come on the same day that the British Retail Consortium (BRC) said sales on the UK High Street fell last month compared with a year earlier.
The BRC said sales in December 2010 on a like-for-like basis were 0.3% lower than the same month in 2009.