Playboy accepts buyout offer from founder Hugh Hefner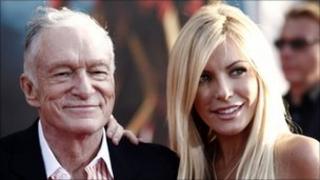 Playboy has agreed to an offer from founder Hugh Hefner to take the firm private after he raised his bid by 12%.
Hefner-controlled vehicle Icon Acquisition Holding offered $6.15 a share for publicly-listed Playboy, which values the firm at $210m.
The 84-year-old already owns about 70% of Playboy's Class A common stock and 28% of its Class B stock.
There was competition from FriendFinder Networks, owner of Penthouse magazine, which had offered $6.25 a share.
Both Playboy's Class A and Class B shares ended Monday trading up 17%.
Licensing deals
Mr Hefner set up Playboy magazine in 1953,
However, circulation and advertising revenues have been falling with the availability on the internet of free pornography.
The firm's management has been trying to transform it from a publishing and TV business into a "brand management" company.
To that end it has been licensing out the Playboy name and rabbit ears for a range of products.
"I believe this agreement will give us the resources and flexibility to return Playboy to its unique position and to further expand our business around the world," Mr Hefner said.
Over the Christmas holiday, Mr Hefner announced he was to be married for the third time, to his 24-year-old girlfriend, model Crystal Harris.