Sainsbury's to create 20,000 new jobs over three years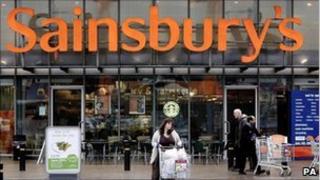 The UK's third-biggest supermarket group, Sainsbury's, says it is to create 20,000 in the next three years.
The firm, one of many UK companies meeting with Prime Minister David Cameron, had already said it would create 6,500 jobs in 2011.
Sainsbury chief executive Justin King said the new posts would be a mix of full and part time jobs.
The company has close to 900 stores across the UK and currently employs 150,000 people.
The new jobs, which come after the creation of 13,000 jobs created in the last two years, will be at supermarkets and convenience stores across the UK.
Mr King said that new employees could also benefit from training and development opportunities, including apprenticeships.
He said the posts would "provide a huge boost to communities across the UK".
The company is also the UK's 10th largest clothing retailer.