Fiat raises stake in Chrysler to 25%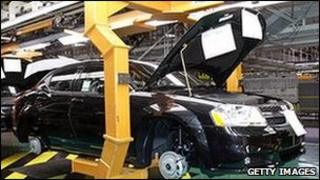 Italian carmaker Fiat has confirmed that it has raised its stake in US carmaker Chrysler to 25%.
Fiat's stake increased from 20% to 25% when Chrysler, which Fiat controls, met the first of three performance targets.
Chrysler has committed to producing a small engine in the US, growing sales outside North America and making a more fuel-efficient vehicle.
The Italian firm received a 20% stake in Chrysler as part of a US government-backed bankruptcy in 2009.
Last month, the Turin-based carmaker stated that it would get an additional 5% when "Chrysler receives regulatory approval for an engine based on the Fiat Fully Integrated Robotized Engine (FIRE family) for manufacture in the US and Chrysler commits to production."
Chrysler group now has the appropriate government approval, and will start commercial production of the engines at its plant in Dundee in the US state of Michigan.
Fiat has the opportunity to further increase its ownership in Chrysler to 35%, in 5% increments when it meets the other two criteria.
Chrysler is now 63.5%-owned by the UAW union, 25%-owned by Fiat, 9.2%-owned by the US Treasury and 2.3%-owned by the Canadian government.
Last week, Fiat chief executive Sergio Marchionne said that the Italian firm could increase its stake in Chrysler to more than 50% this year.