Russian economy faces pre-election uncertainty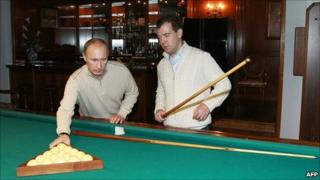 With Russia's 10-day-long Christmas holiday finally over, the country enters a new economic year, one that could become a period of uncertainty for businesses and investors.
Both parliamentary and presidential election campaigns are set to start in the second half of the year, and for many months to come an important question will remain unanswered.
Russian President Dmitry Medvedev, serving his first term in the post, is eligible for re-election. But many expect his predecessor and the current prime minister, Vladimir Putin, to run for presidency again.
The two men have said that they would consult each other about which of them would run for president in 2012.
Serious concerns over the rule of law in Russia remain among many investors and entrepreneurs, and the figure of the next president could prove crucial to how Russia's investment climate is seen both inside the country and abroad.
Bad investment climate
Mr Putin has been criticised for saying that "a thief belongs in prison" when referring to former oil tycoon Mikhail Khodorkovsky during a televised question-and-answer session in December.
Several days later Khodorkovsky, who had already been serving an eight-year term for tax evasion, was sentenced to six more years in jail for fraud.
When the Khodorkovsky verdict was being read in court, Mr Medvedev chaired a meeting to discuss the Russian economy's performance in 2010, where he said that the investment climate in Russia was "bad".
Meanwhile, the government will need to attract investors in order to sell stakes in a number of state-controlled companies to finance the budget deficit.
And Russian state companies themselves will need investment money to implement ambitious projects.
Deputy Economy Minister Andrey Klepach said in December that his ministry had lowered its investment growth forecast for 2011 from 10% to 9% "or even lower".
Social spending
There are also other factors that could have a huge impact on the state of the Russian economy.
In the past, the state has substantially increased social spending before elections, and there is little evidence to suggest that the situation will be different this time.
Social spending will amount to 28% of the federal budget this year, reaching 3 trillion roubles ($97bn, £63bn), with defence spending at 1.5 trillion roubles.
Experts believe that the figures may prove popular with the electorate, but do little to help the economy to develop.
Sergei Guriev, rector of the New Economic School in Moscow, told the BBC's Russian Service that structural reforms were needed, because without them, the country's economy would be growing too slowly for the government to solve Russia's social problems.
Evgeny Yasin, the academic supervisor of the Higher School of Economics and a prominent Russian economist, agrees.
"We do not do anything [to stimulate the economy] that is not done in the West, but our economy requires much more radical and often unpopular measures to be taken, and the government is not ready to do that," he told the BBC's Russian Service.
'The year of waiting'
The Russian economy is thought to have grown by almost 4% in 2010, after contracting by 7.9% during the recession in 2009.
The 2010 growth could have been even higher but for the worst summer drought on record that led to a ban on exports of wheat and other grains from Russia.
Consumer prices have also been growing rapidly since the summer, pushing the annual inflation rate to almost 9%.
For 2011, the government expects prices to grow by 6.5% and the economy to expand by about 4.2%.
A lot will again depend on how high - or low - global oil and gas prices are, as the Russian economy remains heavily dependent on energy exports.
Mr Yasin believes that the economic situation in 2011 will be similar to 2010, "or maybe a little bit worse".
From his point of view, that is not a bad thing, as new economic challenges could finally make the government implement necessary changes. Otherwise, he says, we could go without reforms "indefinitely".
Mikhail Delyagin, head of the Institute Of Globalization Problems, also believes that the economic growth will not accelerate or slow down considerably in 2011, as the economy has some "strength in reserve".
"It will be the year of waiting," he told the BBC's Russian Service.
"Everybody, including businesses, will be sitting [quietly], being afraid of the unknown."