China sees trade surplus narrow as imports rise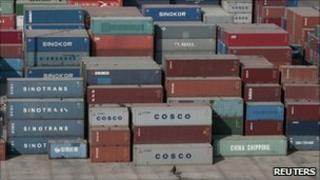 China's trade surplus shrank to an eight month low in December, official figures show.
Imports increased by 25.6% on the same month a year earlier, leaving China with a surplus of $13.1bn ($8.4bn).
Exports were up 17.9%, much slower than November's 34.9% rise.
Analysts said the data may give Beijing grounds to fend off US pressure for faster currency appreciation ahead of Chinese President Hu Jintao's visit to the United States next week.
"Imports are much stronger than we have expected, indicating that the domestic investment and internal demand are mainly pushing up domestic consumption," said Wang Han, an economist at advisory firm CEBM in Shanghai.
Figures showed that the surplus for 2010 as a whole had fallen for a second consecutive year, down 7% on 2009 levels to $183.1bn.
Many US politicians and economists accuse China of manipulating the value of the yuan in order to boost its net exports at the expense of its trading partners.
A bill is set to go before the Senate that would call for retaliatory trade sanctions against countries such as China that intervene to weaken their currencies.
China relaxed the yuan's fixed exchange rate against the dollar in June, but since then it has been allowed to appreciate by less than 3%.