UK house prices fell 1.3% in December, Halifax says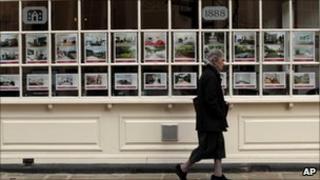 UK house prices have continued to slip, falling by 1.3% in December from the previous month, the Halifax has said.
The lender, part of Lloyds Banking Group, said it meant the average property ended the year 1.6% cheaper than at the beginning of 2010.
But it said the decline was less than falls seen in the second half of 2008.
Halifax said it expected "limited movement in house prices during 2011" as interest rates were "likely to remain very low for some time".
It said that signs of a reluctance to sell from some homeowners could halt the decline in prices.
The average UK house price now stands at £162,435, Halifax said.
Downward pressure
The three-month on three-month comparison in prices, regarded as a measure of house prices that avoids any short-term blips, showed that prices were down 0.9% in the three months to December compared with the previous quarter.
The Halifax said that there was some uncertainty among house buyers and owners, despite continued low interest rates making homes comparatively affordable.
"Current signs that homeowners are becoming more reluctant to sell would, if continued, help reverse the imbalance between buyers and sellers," said Halifax housing economist Martin Ellis.
"Nonetheless, uncertainty about the economy, weak earnings growth and higher taxes could put some downward pressure on demand."
Comparison
The figures come shortly after the Nationwide Building Society reported that prices rose slightly in December, but predicted that property values would dip in the first half of 2011.
It said that prices were up 0.4% in December, leaving them also 0.4% higher than a year earlier.
The month-on-month comparison is calculated slightly differently by the two lenders. If Halifax were to calculate a direct comparison between December 2010 and December 2009, it would show a 3.4% fall.
However, it uses a smoothed-out quarterly comparison.
Both lenders calculated the average UK home to be valued at about £163,000.
There is some disagreement among commentators about the future direction of house prices.
Some expect house prices to fall over the course of 2011, although Halifax is not alone in predicting little change in values over the year.
But some estate agents and other property market businesses have forecast falls of up to 5% this coming year, while other commentators and economists have suggested they could drop by more, possibly 10%.
Others suggested there was a notable regional variation.
"While there has been an easing down of prices, as supply has come through and demand has weakened, in certain towns and cities, not least the capital, the right type of property is still commanding the right sort of price," said James Scott-Lee, chairman of the Chancellors Group of estate agents.
"Poor quality properties in areas of oversupply are under real pressure but sought-after properties in areas of high demand are still performing well.
"The headline Halifax house price figure, as a national average, simply does not reflect the regional variations in prices."
Philip Clarke, a director of Fisher Property Services, said he expected a North/South divide in England in the coming year in terms of house prices.
"We expect prices in the South and London to be resilient over the course of 2011, with the capital even seeing a marginal increase in prices come the end of the year. But for the North, with its heavy reliance on the public sector and industry, and the geographic dilution of demand, further price falls are almost inevitable," he said.