Virgin Atlantic withholds BAA fees over snow row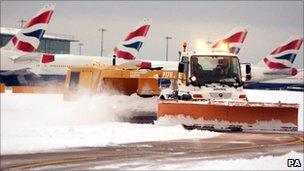 Sir Richard Branson's Virgin Atlantic is withholding the fees it pays airport operator BAA because of its "slow reaction" to last month's heavy snow.
The airline says it will not pay any airport fees before the end of BAA's full inquiry, due at the end of March.
Many thousands of air passengers were affected in December as Heathrow and other airports temporarily closed, costing the industry millions.
BAA said Heathrow's conditions of use provided no basis to withhold charges.
Virgin - one of BAA's biggest customers - and other airlines have been critical of the length of time it took to clear planes for take-off following the disruption.
But BAA said: "Heathrow's conditions of use do not provide any basis for Virgin Atlantic or any other airline to withhold airport charges."
BAA's new non-executive director, Sir David Begg, launched an inquiry just before Christmas into "what went wrong" at Heathrow where flights were grounded for days.
A panel of experts from different airports and airlines will judge BAA's "planning, execution and recovery".
"BAA announced fairly quickly after this debacle at Heathrow they were going to launch their own independent inquiry with a panel of international experts," said John Strickland, an aviation consultant.
BAA is due to report at the end of March, and has said it will work with airlines during the inquiry and share the findings of its report.
"I think as part of that process we're very likely to see negotiations going on and some recompense coming to major airline customers such as Virgin Atlantic and British Airways," added Mr Strickland.
Heathrow Airport's boss Colin Matthews announced in December that he was to forgo his bonus as he focussed on rebuilding confidence in the airport.
At the time, Prime Minister David Cameron said it was understandable there had been extensive disruption given the amount of snow that had fallen.
But he added he was frustrated on behalf of all those affected that it was "taking so long for the situation to improve".
BBC business correspondent Joe Lynam said the fees Virgin were withholding were said to amount to less than £10m.
Last week, British Airways said the part-closure of UK airports had cost it £50m.
Related Internet Links
The BBC is not responsible for the content of external sites.