RMT boss Bob Crow attacks 'partying' bankers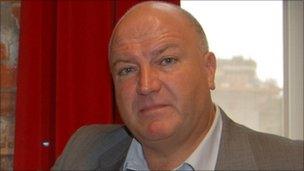 Business Secretary Vince Cable is "standing idly by" as bankers are set to be paid billions in bonuses, a union leader has said.
The RMT's Bob Crow said bankers were still "partying like it's 1999" despite government calls to curb bonuses.
BBC business editor Robert Peston says the coalition is now resigned to billions being paid out, albeit at lower predicted levels than in 2010.
Last month Mr Cable said he would take "robust action" to curb bonuses.
Mr Crow said about £7bn was about to be "shovelled over" in bonuses to the bankers.
"There will be anger on the streets as people realise that the same people who created the UK financial crisis are still living in the lap of luxury while the rest of us are told to take the hit," he said.
"With the NHS running out of beds and flu vaccine, commuters bled dry and VAT sent sky high, they are still partying like it's 1999 down in the Square Mile while Vince Cable and the ConDem government stand idly by."
He said workers should stand firm and fight for fair pay deals.
"So much for sharing the pain. My advice to any worker told they should take a pay freeze or a pay cut this year is to point to the bankers, stand firm and demand a fair deal," he said.
On Friday our editor said the best the coalition could now hope for was a declaration from the banks that they will pay out less than they would have without government intervention.
He expects Royal Bank of Scotland to pay nearer to £1bn in bonuses than last year's £1.3bn, and Barclays to pay less than the £5bn-£6bn predicted to be paid to its investment bankers.
The UK government has pumped billions of pounds into the banking sector, and bailed out both Royal Bank of Scotland and Lloyds Banking Group.
As a result, many critics have argued it should have a greater say in how much banks pay out in bonuses.
But the banks argue that they cannot dramatically reduce bonuses without the risk of losing top staff to banks based overseas, which are under less pressure to cut the payments.
Banks have already begun re-balancing pay packages following new Europe-wide rules on bonuses agreed last summer.
These include introducing independent remuneration committees and setting maximum levels of bonus payments as a percentage of basic salary.
Earlier this month, charities called for a tax on bankers' bonuses to help protect their organisations from funding cuts.
Sir Stephen Bubb, chief executive of Acevo, which represents 2,000 charity leaders in Britain, said such a levy could be channelled into voluntary organisations to help prevent thousands of charities closing or cutting services.
Related Internet Links
The BBC is not responsible for the content of external sites.