Dulux brings a splash of colour to China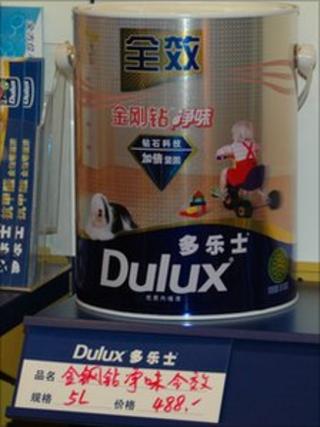 As some Chinese workers find themselves with more disposable income, their minds turn to brightening up their lives - and their homes.
The paint company Dulux has adapted to both domestic expectations and the demanding rigours of expanding in China, and it is currently opening three new stores a day.
"Markets have different opportunities, different challenges, different styles," says Keith Nichols, the chief financial officer of Akzo Nobel, who took over the Dulux paint brand from ICI at the beginning of 2008.
"China is an amazing growth market," he says, "It has been interesting to watch how things have changed over the last five years."
He says that environmental standards in China are equal or higher to some of the ones seen in the mature world. "They are looking much more to the medium term and long term, rather than just building something quickly."
Comparing how business is done in China to elsewhere in the world, he says: "It is a different model, it is not the democratic process you have to go through in other parts of the world."
There is bureaucracy everywhere - forms to be filled and checks to be done. "But if you look at it from 50,000ft it is not really different from the mature world," he says.
Brand loyalty
The brand name Dulux was first used in 1931 and the familiar Old English Sheepdog first appeared in advertisements in 1963. Dulux entered the Chinese market in 1984.
"The whole notion of the decorative paint industry is that it is a branded industry," says Mr Nichols, "which means that you distinguish yourself by what the brand means in the eyes of the consumers."
He maintains that the stronger you build a brand, the better you are able to ultimately demand a price which is beyond the cost of raw materials.
"We also have to realise that in the decorative paint business there is a lot of emotion going on. People who decorate their houses want to make sure it works, and they want the best of the best in their houses," he says.
"Furthermore, if you have a strong market share, your ability to command prices is much higher than if you have a weaker market share."
There is a certain kudos among the growing affluent class of China which looks to the West for its inspirations and aspirations.
"I have always seen global brands winning over local brands in most markets," says Mr Nichols.
"You see that particularly in the car industry. Look on the roads here in China: Lexus, BMW, Mercedes, Volkswagen. Aspirations of consumers globally seems to be converging to global brands," he asserts.
Akzo Nobel has the advantage of not having to pay the 20% import tax imposed on most products.
"You do not ship liquids around, so all our paint is produced locally in China."
Challenges in China
Mr Nichols says he cannot highlight any more major difficulties working in China than in any part of Europe.
"You have to deal with strikes and upsets in France all the time," he muses. "There will always be challenges anywhere."
There are well-known issues continually discussed about China - food, human rights, the education gap between the countryside and the cities.
"They are going through their own industrial revolution," he says.
"It is just as difficult developing your customers in Brazil. Or if you wanted to open a new facility in continental Europe you are faced with all the environmental concerns, all the social lobbying, the green lobby."
He maintains that one of the key differences is that it can take longer to get something approved, and then it can change rapidly as they realise they can adjust and improve the regulations.
"You can start with a certain framework you think is right but in a matter of months the authorities might decide that they want to change or adjust it," he says.
Corruption is rampant in many parts of Asia but Mr Nichols maintains that you have to set your standards, be very strict, and be rigorous in bringing in your own minimum compliance and governance standards.
"The more you have multinationals setting good minimum standards the better the business environment will become," he advocates.
"There have been instances when we have walked away from revenue because it did not meet our standards from a long-term perspective."
Local connections
"The Chinese have a growth agenda - they want to get know-how, they want to get talent," Mr Nichols says.
Akzo Nobel started joint-partner ventures in the late 1970s and has seen phenomenal growth over the last few years.
"If you have the right standards, you are going to be able to meet the hurdles which are rightfully in place in whichever market you are going into," he says.
"The challenge for all us multinationals is to have a continuous development pipeline - that you keep bringing in new people, training them, developing them, because everybody is growing in the market and we need more people."
The workforce is predominantly Chinese, most of whom are well-educated.
"It is important to have local people running the sites. They make the connection to the customers," he says.
"However you describe it, ex-pats have a shelf life. They are here for three or four years and then they move back."
He explains that it is more sustainable to have Chinese managers because they have links with the business community, the political community, and the university community.
Role model
Apart from decorative paints, Akzo Nobel also have a significant coatings business - paints used for industrial purposes rather than the home.
In November 2010, they opened one of the most advanced factories of its type in Ningbo - where enormous pipes are produced to feed the rampant construction sector, including the Hangzhou Bay Bridge, one of the longest in the world.
When fully operational, the new site will employ 500 people.
Akzo Nobel's chief executive, Hans Wijers, understands that people all over the world are increasingly interested in what goes on in major companies.
Is the business being conducted properly? Are local laws being adhered to? Does a company comply with international regulations?
He also understands how important it is to remain competitive and innovative.
"We introduced a paint into the Asia market this year, for exterior walls," he says.
"It keeps your house cooler and you have a saving of 7% to 8% on your air conditioning bill."
At the moment the paint is sold mostly in south Asia, as they have a tendency to paint the outside of their homes there, but the technology will later be used elsewhere.
In China there are specific customer needs.
"The smell of paint is something that Asian people associate with something unpleasant and unhealthy, which is one of the reasons why we developed an odourless paint," Mr Wijers notes.
"People have smaller houses in China and smaller rooms, so we have developed paints which reflect the light better and that increases the perception of the room being bigger than it would normally be," he says.
Another way in which the Chinese market differs from elsewhere is that there is very little evidence of DIY (Do it Yourself).
Customers usually choose and buy the paints they want, then employ somebody else to decorate their homes.
You can imagine the Dulux dog wagging its tail in happiness because, judging by the company's enviable growth in China, it would appear that Mr Wijers must be doing something right.
There are many Western companies who might like to follow his example.