Gold boosts pawnbroking firm H&T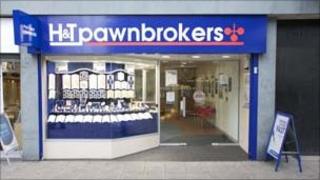 Pawnbroking firm H&T Group has said that its 2010 pre-tax profits will be higher than current market expectations.
In a trading statement, released ahead of its full results, the firm said buying gold from customers had contributed the most to rising profits.
The value of goods pawned stood at a record £39.5m at the end of December, up from £37.3m in June, H&T said.
Its shares rose 5% after the announcement to 335 pence.
"The rising price of gold has helped people realise the value of some of their jewellery and has helped raise our profit margins," said Steve Fenerty, H&T commercial director.
H&T also said that the average loan it had given to customers had increased.
"It's been a very good year for the business, which has given us the resources to open more stores," Mr Fenerty added.
The opening of 13 new outlets contributed to the growth in all areas of the company, including cheque cashing, payday advances and unsecured loans, the firm said.
Supermarket giant Tesco announced a move into pawnbroking earlier this week, offering to pay customers more for their gold than H&T and other gold buyers pay.
The news knocked H&T shares earlier in the week, but Mr Fenerty said he believed that it would not threaten the group's businesses.
H&T has a total of 135 pawnbroking stores and 45 Gold Bar outlets in shopping centres.