UK economy risks 'playing in slow lane of history'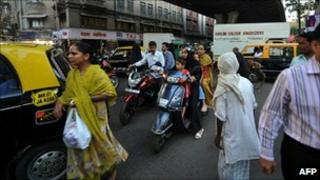 The UK needs to make greater inroads into emerging markets or risk "playing in the slow lane of history", research has suggested.
Leading developing economies account for 7% of UK exports, said consultants PricewaterhouseCoopers (PwC).
This figure needed to rise sharply as emerging markets expanded to challenge the established order, it added.
It forecast that China would overtake the US as the world's biggest economy by 2032.
New order
In its The World in 2050 report, PwC said the global financial crisis had accelerated the shift in economic power to developing countries.
It said the economic output of the emerging markets of China, India, Brazil, Russia, Mexico, Indonesia and Turkey, the so-called E7, would overtake that of the established G7 nations of the US, Japan, Germany, UK, France, Italy and Canada by 2032.
PwC also projected that India would achieve the most significant increase in share of global economic output, rising from just 2% now to about 13% by 2050.
And it could be close to catching the US by 2050, the report said.
The Indian and Chinese economies in particular have been powering ahead this year while more developed, Western economies have struggled to recover from the global downturn.
In the three months to the end of September, India's GDP grew at an annual rate of 8.9%, while Chinese GDP expanded at an annual rate of 9.6%.
By contrast, the US economy grew at an annual pace of 2.6% during the same period, while the eurozone grew by just 0.4%.
'Opportunities'
However, fast growing emerging markets presented opportunities for developed markets, PwC said.
"This applies not least to the UK, which currently sells only around 7% of its exports to Brazil, Russia, India and China - about the same as it exports to the Irish Republic at present," said John Hawksworth, PwC's chief economist.
"If the UK is not to be playing in the slow lane of history for the next 40 years, it needs to find a way to break into these fast-growing emerging markets on a much larger scale than achieved so far."
The UK should manage to keep its place in the top 10 global economies by 2050, PwC said.