Mortgage demand dip predicted by lenders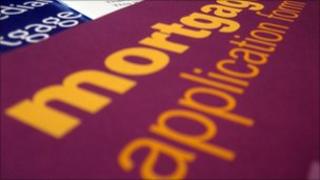 Demand for home loans is expected to fall in the coming months as the mortgage market continues to stagnate.
Lenders believe that demand for mortgages for house purchases will drop in the first three months of 2011 as people delay decisions to move.
The views are reported in the Bank of England's Credit Conditions Survey, with lenders also expecting the recent jump in remortgaging demand to stall.
However, mortgage availability could pick up, the report said.
Loan availability
Overall, the lending picture remained relatively unchanged over the latter part of 2010, according to the Bank's report.
However, demand for home loans for house purchases fell in the final quarter of 2010, dropping at its fastest rate since the third quarter of 2008.
Lenders expect demand to continue falling, and that the supply of loans will continue to be constrained.
Recent house price falls had led to a slight decrease in the availability of mortgages for people borrowing more than 75% of their home's value, but the availability of home loans is expected to rise "a little" in the next three months.
The report also said that fewer borrowers of unsecured credit - such as credit card holders - have defaulted for five quarters in the row.