Mothercare and Clinton Cards issue profit warnings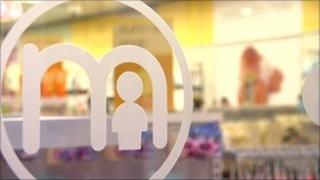 Mothercare has issued a profit warning after the winter weather hit its business.
Like-for-like sales in the last three months of 2010 fell 5.8% as the freezing conditions caused "widespread disruption".
Toy sales were hardest hit after the firm cut off Christmas online orders early to ensure delivery.
Meanwhile Clinton Cards said the weather had seen sales fall 2.1% in the last five weeks of the year.
It said "the impact of such adverse weather conditions" was "disappointing" and that full-year profits would be "significantly lower" than market expectations.
Both firms saw their share prices fall, with Mothercare closing 5.5% lower and Clintons dropping 10.7%.
However, there was better news from Majestic Wine, which thanked "loyal customers for battling through December's dreadful weather conditions" as it saw UK like-for-like sales growth - which strips out the impact of new stores - of 3.7% in the nine weeks to 3 January.
But the firm said sales were half their normal level on the Saturday before Christmas - traditionally its best trading day of the year.
Meanwhile, separate data from the Markit/CIPS Purchasing Managers' Index (PMI) suggested that snow had played a part in causing the UK's service sector to slow for the first time in 20 months in December.
Weather 'victims'
Mothercare said that the poor weather had reduced UK like-for-like sales in the third quarter by about 4%, and that its out-of-town shopping centres had particularly suffered from the disruption.
And it warned that annual gross profits from the UK would be lower than the £41m previously stated, adding that the consumer environment remained "difficult".
However, the firm has continued to see strong growth in its international business where sales grew by 17.6% between September and January compared with same period a year earlier.
"Despite growing international sales, an already challenged UK business now forms another victim of the cold weather," said Keith Bowman, equity analyst at Hargreaves Lansdown Stockbrokers.
"The group's shift towards out-of-town premises appears to have worked against it, whilst like rival Next, the fragilities of time critical direct online Christmas sales have been exposed."
Earlier this week, Next said the December snow had cost it £22m in Christmas sales, but that profits remained on target.
And HMV blamed the bad weather as well as "challenging trading conditions" for a 10% fall in festive sales, and warned profits would be at the lower end of forecasts.
'Concern'
Public spending cuts and the arctic conditions were seen as factors in the slowing of the service sector, according to the Markit/CIPS Purchasing Managers' Index (PMI) survey.
Its reading slipped to 49.7 in December from 53 in November. A reading below 50 indicates contraction.
Hotels, restaurants, caterers and personal services faced most disruption, the report said.
The data "posed a genuine cause for concern" according to Nida Ali, economic adviser to the Ernst & Young ITEM Club.
"Temporary factors such as poor weather conditions may well be the reason for such a drastic fall... however underlying trends such as a fall in employment for the third consecutive month imply that the services sector overall remains weak," she said.
Earlier this week, PMI figures for the manufacturing sector indicated it had enjoyed the strongest growth in 16 years in December.
"There is a strong indication that UK economic growth is completely reliant upon export sales while domestic demand has wilted," said Markit's chief economist, Chris Williamson.