How Australian floods hit Europe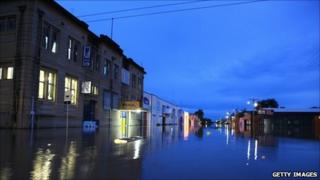 It's hard to see how the floods in Australia affect the people of Germany and Britain as they trudge through the gloom to work.
The damp hotness of Australia seems a million miles from the miserable northern Winter.
But in a global economy, everything is connected.
It's not quite as grand as the Butterfly Effect, where the flap of a tiny wing in one part of the world is supposed to resonate and expand to eventually create a hurricane far away.
But the ricochet of effects is there all the same.
Here's how it works with floods: Australia is the world's biggest coal producer and Queensland is where most of that Australian coal comes from.
The wettest spell on record there has cut shipments of coal, and that has led to high prices in Europe.
And high prices of coal means less room for profits at coal-fired power stations.
It is down by 80% on a year ago.
Delayed impact
Most of Australia's coal goes to steelworks, but some goes to two German companies which use it for 18% of the country's electricity, and to the UK, which has Europe's biggest coal-fired plant at Selby in the North of England.
The relationships are indirect because buyers of coal for power station work years ahead, buying for the future and hedging against big rises.
It's not a case of "floods now so high coal prices now".
Today's floods mean pressure to put up prices in the future.
Coal to be delivered to Europe in 2012 has been trading at its highest price in more than two years, at more than $122 a tonne.
And that has cut the profitability of coal-fired power stations dramatically - down in Germany by 80% on a year ago.
The price of coal rose last year because of the great demand from China.
This year it's likely to be the rains in Australia.
It never rains but it pours - at least if you use coal to fuel your power station.