Renault suspends senior managers over secrets leak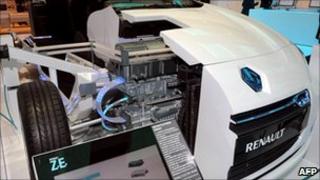 French carmaker Renault has suspended three senior managers following a lengthy investigation into the possible leaking of electric vehicle secrets.
One of the three is a member of Renault's management committee.
The investigation began in August following an "ethics alert" sent to the carmaker's compliance committee, Renault said.
Renault, alongside its partner Nissan, has invested heavily in electric vehicle technology.
"The actions are serious enough to damage the company so that suspensions were necessary," Renault spokeswoman Caroline De Gezelle told the BBC.
She added that the three managers were being given the opportunity to respond to the charges made against them, before the carmaker's human resources department decided on any sanction.
Pure electric
According to reports, the carmaker is concerned its work in developing electric technology has been compromised.
"Renault is a victim in this story. The group is a bit worried about its electric vehicle programme - it hopes that its leadership in this technology won't be threatened," a source told the AFP news agency.
Renault plans to launch a number of electric models over the next two years.
Along with Nissan, it has argued that pure electric vehicles are the best long-term solution to reducing carbon emissions from cars.
This is in contrast to General Motors and Toyota, the world's two largest carmakers, which are instead investing heavily in hybrid vehicles, which use both an electric and a petrol engine.