Credit card users double-charged at New Year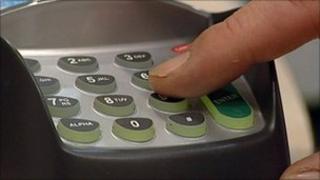 Thousands of credit and debit card users were double-charged by mistake on New Year's Eve, Lloyds Banking Group has confirmed.
More than 200,000 people eating out or using their cards in shops are expected to discover that two identical charges have appeared on their statements.
The problem is related to the payment processing service provided to retailers by Lloyds TSB Cardnet.
It could have affected users of a large number of different bank cards.
Lloyds said the retailers experienced a "system error" with wireless terminals used to deal with card payments.
Reimbursed
One victim used his Tesco Mastercard to pay his bill at a London restaurant during a New Year celebration.
He found that the payment appeared on his account first on 3 January and then again on 4 January.
The restaurant is ringing customers to try to alert them to the double-charging.
Lloyds Banking Group apologised for the inconvenience caused and told BBC News the problem lay with a technical error affecting "certain payments from card holders to some merchants".
"Duplicated transactions have been reversed and card holders are being reimbursed," it said.
Lloyds has set up a telephone helpline on 01268 567100, option 4.
It says cardholders who think they have been penalised by their own bank or card issuer as a result of a transaction being charged twice should contact Lloyds.
"We will consider all reasonable and evidenced requests for reimbursement," it said.