More online tax returns filed on Christmas Day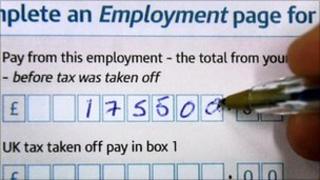 More people had tax on their minds this Christmas than during the previous festive period.
Some 845 people filed their online tax return on Christmas Day - up from 620 the previous year, HM Revenue and Customs (HMRC) said.
A further 2,408 submitted their self-assessment data on 26 December, HMRC said.
A deadline for online tax returns is looming with entries required by 31 January.
However, those filing online for the first time must register, and will then receive a Pin code by post which can take up to seven days to arrive.
Fine
Self-assessment involves completing a tax return in order to tell the HMRC about income and capital gains - profits on the sale of certain assets - or to claim tax allowances or reliefs against a tax bill.
This is required primarily from the self-employed or those who have income from several sources.
The deadline for paper tax returns was on 31 October. The deadline for online filing is 31 January.
Anyone who misses the deadline faces a £100 fine, with a further £100 levied after 31 July. Interest can also be charged on unpaid tax.