Waitrose to open more stores as John Lewis sales rise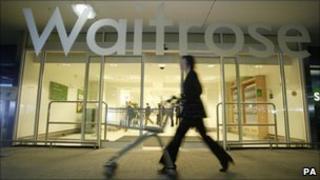 Upmarket supermarket chain Waitrose is to roll out 39 new stores in the UK this year, creating 3,000 new jobs.
Some 27 of the new openings will be convenience stores - a smaller format launched by the company last year.
The news comes as its parent, the John Lewis Partnership, reports bumper Christmas sales, despite the snowy conditions that hurt other retailers.
Sales at its John Lewis department stores in the five weeks to 1 January were £545m, up 8.9% from a year before.
The strong performance was driven by its electrical and home technology department, as well as a 42% rise in online sales, the partnership said in its trading update.
Like-for-like sales - which considers sales at stores open at least 12 months - rose by 7.6%.
Contrasting fortunes
"Online sales soared during the first snowfall as customers struggled to get to the shops," said Andy Street, John Lewis managing director.
"When the weather turned for a second time closer to Christmas, shoppers wanted the reassurance of having their goods in their hands, and our shops saw sales surge as a result."
John Lewis had to bring forward its deadline for Christmas deliveries by three days in response to the poor weather.
"John Lewis has had an outstanding Christmas for the second year in a row," said retail analyst Nick Bubb of stockbrokers Arden Partners.
"It shows the snow was not what the press drummed it up to be," he said.
The results come in stark contrast to fellow retailers Next and HMV, both of whom said on Tuesday that Christmas sales were badly hurt by the snow.
Among the factors working in John Lewis' favour, Mr Bubb notes higher confidence of its middle-class customer base and the stronger recovery in London and the South East where the company has most of its stores.
Christmas sales at Waitrose were also strong, up 8.9% for the week to 23 December.
The supermarket chain - which currently controls 4.1% of the market - is growing rapidly, having opened 20 new stores last year, bringing its total to 241.