Swelling bankruptcy among pensioners 'a concern'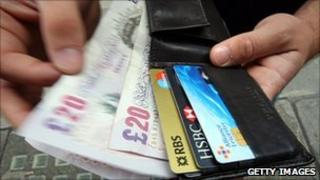 Concern about the rising number of pensioners becoming bankrupt has been raised by campaigners following an analysis of debt figures.
Bankruptcy among all age groups has risen in the past 10 years, with the highest prevalence among 35 to 44-year-olds, the UK Insolvency Service said.
But the service and charities have pointed to pensioners as being the fastest growing group of bankrupts.
The elderly face debts at a time when their income drops, charities warn.
"Dealing with debt is particularly hard as you get older as you are likely to have limited opportunities to increase your income," said Una Farrell, of the Consumer Credit Counselling Service (CCCS).
"The average debt for a CCCS client over the age of 55 is £25,826 compared with £24,274 for CCCS clients overall, while the average annual income of a CCCS client over the age of 55 is £12,920, significantly lower than £17,316 for CCCS clients overall.
"It is very difficult to be struggling financially at a time in your life when you had expected to be more settled."
Statistics
The data from the Insolvency Service shows that, although the number of bankrupt pensioners was rising, it remains much lower than those of working age.
There were just over three people aged over 65 made bankrupt per 10,000 of the adult population in 2009. This compared with just over 30 per 10,000 for those aged 35 to 44.
Other findings included an increasing proportion of women going bankrupt. This stood at 29% of bankrupts in 2000, but reached 40% in 2009.
The average age of somebody going bankrupt is 41.
Personal insolvency in the UK has started to dip after reaching record highs in 2009, but the Insolvency Service is running a campaign aimed at reducing the amount of personal debt.
"Although personal insolvency levels are no longer rising, they remain stubbornly high, reflecting the high levels of personal debt that persist across the country," said Stephen Speed, chief executive of the Insolvency Service.
"Prevention is much better than cure as far as personal finances are concerned. Review your personal finances frequently and make sure you are not taking on debt that you cannot afford to repay."