Australia floods 'to hit global steelmaking'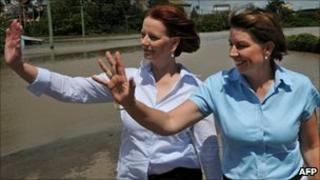 The Queensland floods could have a "significant long-term effect" on the global steel industry, the premier of the Australian state has warned.
Anna Bligh's comments came as three quarters of the state's coal fields are unable to operate due to being flooded.
The situation in Queensland is being closely watched by the global steel industry, because it exports half the coking coal needed to make the metal.
However, steel analysts say it is too soon to be able to quantify the impact.
They say this is because it depends on how long the floods continue, and the size of the coking coal stockpiles the world's steelmakers currently have in place.
Ms Bligh told Australian broadcaster ABC: "We have three-quarters of all of our coal fields unable to operate and unable to supply markets."
Railway lines that transport the coal to ports for export have also been flooded.
Ms Bligh added that until the waters recede, "it's going to be hard to really fully assess the long-term economic and social impact".
"This is an event that will have a ripple effect across Queensland, Australia and some parts of the international region for many months to come," she said.
'Squeezed upwards'
The price of Queensland coking coal has jumped to $253 per tonne from $225 in the past three weeks.
However, prices peaked at $305 during the last serious flooding in the state in 2008.
Meanwhile, the global spot - or trading - price of coking coal is now around $250 a tonne, 11% higher than the most recent long-term contract deal price of $225.
Analyst Grant Craighead of Stock Resource in Sydney, said he expected spot prices to increase further.
"The market was already tight, so there's only one way things can go," he said.
"The price will get squeezed upwards and producers will scramble for coking coal wherever they can."
Taiwan-based China Steel, which usually gets 80% of its coking coal from Australia, said it was now turning to the spot market for alternative supplies.
Wheat impact
The flooding in Queensland has also damaged wheat crops in the state, but Queensland only accounts for 5% of Australia's wheat exports.
However, as Australia is the world's fourth-largest wheat exporter, global prices of the grain have risen, also not helped by heavy rain in other Australian states affecting the quality of their crop.
On Tuesday, US high-protein wheat futures in Kansas City and Minneapolis hit two-year closing highs.
Analysts have also warned that the flooding in Queensland will put up the price of sugar cane, its other main crop, plus those of the state's fruit, vegetables and dairy products.
"It's very hard to be precise on this, but as a rough estimate the flood impact on production and demand could shave around 0.4% points off [Australian] GDP," said Helen Kevans, an economist at JP Morgan.