Oil price up on 'manufacturing growth'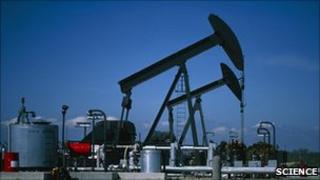 The price of oil has risen by more than a dollar a barrel after surveys suggested strong manufacturing growth in both the US and the eurozone.
The Institute of Supply Management (ISM) said US manufacturing grew in December at its fastest pace since May.
US light crude rose by $1.08 to $95.8 a barrel, while London Brent rose 94 cents to $95.83, before both slipped back to end the day slightly up.
Cold weather has pushed the price of oil higher in recent weeks.
'Significant recovery'
The ISM said that its index of manufacturing activity rose to 57 in December, up from 56.6 the previous month. Any reading over 50 suggests growth in the sector.
"All told, the December ISM index is consistent with a manufacturing industry on solid footing and an economy that re-accelerated in the fourth quarter," said Ryan Sweet at Moody's Analytics.
December was the 17th month in a row that the sector grew, according to ISM.
"We saw significant recovery for much of the US manufacturing sector in 2010," said Norbert Ore, head of the group's manufacturing business survey committee.
In Europe, the Markit Purchasing Managers' Index (PMI) recorded a level of 57.1 for December, up from an earlier estimate of 56.8 and above November's 55.3.
Germany posted the strongest growth, but Greece's manufacturing sector continued to shrink.
Global shares also moved higher following the two surveys, with Wall Street up almost 93 points, or 0.8%, at 11,671.
In Germany, the Dax index closed up 76 points, or 1.1%, at 6,990, while in France the Cac 40 ended 96 points, or 2.5%, higher at 3,901.