Porsche shares surge on hopes of VW merger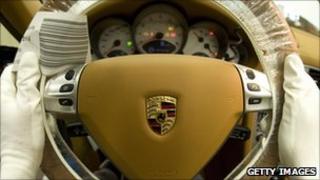 Shares in German carmaker Porsche have soared after a US judge dismissed a lawsuit that had threatened to de-rail a planned merger with Volkswagen
Two hedge funds claimed more than $2bn (£1.3bn) in damages over a 2008 deal in which Porsche bought a stake in VW.
But last week, a judge dismissed claims by funds Elliott Associates and Black Diamond of securities fraud by Porsche.
Shares in Porsche, trading for the first time since the judge's decision, jumped 7.5%, while VW shares rose 2.5%.
Earlier in the session, Porsche shares were up 12%.
"We regard this [decision] as positive news for Porsche shareholders as the biggest risk to the merger with VW has been removed," Credit Suisse analysts said in research note.
The lawsuit had delayed VW's attempts to merge with Porsche, which is also planning a 5bn euros (£4.3bn) rights issue.
The hedge funds had alleged they lost out when Porsche covertly bought a stake in Volkswagen using swap instruments as part of a plan to take over Europe's largest carmaker.
When Porsche's stakebuilding was revealed in October 2008, VW shares soared and the company briefly became the world's biggest business by market value.
Hedge funds that had bet on VW's share price falling lost money.
The planned merger of the two carmakers also received a boost after Martin Winterkorn agreed to extend his contract as chief executive of VW until the end of 2016.
Mr Winterkorn is one of the architects of the deal.