VAT rise means £2.2bn in lost sales, says report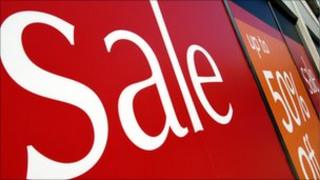 Retail sales will fall by about £2.2bn in the first quarter of 2011 because of the rise in VAT, according to a report.
It says consumers will rein in their spending after the standard rate of VAT rises from 17.5% to 20% on Tuesday.
The Centre for Retail Research and Kelkoo, the online shopping group, say spending in the January sales will rise by about 1.6% to £22.5bn as consumers try to beat the rise.
But they say this will be the "last hurrah" before the VAT rise kicks in.
The rate rise affects any VAT-registered business that sells or purchases goods or services that are subject to the standard rate of VAT.
Most foodstuffs, children's clothing and books will remain zero-rated and reduced rates will remain on items such as children's car seats and supplies of domestic fuel and power.
Some business groups have called on the government to delay the increase because of the recent cold weather, which hit retailers in the normally busy run-up to Christmas.
The report predicts that consumers will spend £22.5bn in the January sales, an increase of £360m on last year.
After this, however, the report estimates that consumers will spend an average of £324 less this year as a result of the tax.
Inflation
British Retail Consortium spokesman Richard Lim said the rise would harm the sector, but he accepted that it was necessary.
"[The rise] will push inflation up and, along with National Insurance rises and public sector job losses, harm sales as the year continues.
"But, we do accept that the VAT rise, with substantial public spending cuts, is necessary as part of the government's package to tackle the deficit."
However, Labour leader Ed Miliband called the planned rise the "wrong tax, at the wrong time".
He said it would cost the average family £7.50 a week.
"Today we start to see the Tory-led agenda move from Downing Street to your street," Mr Miliband warned.
"The VAT rise is the most visible example of what we mean when we say the government is going too far and too fast, because it's clear that it will slow growth and hit jobs."
But Chancellor George Osborne said the VAT increase was necessary, as the coalition was dealing with Labour's "record debts".
"VAT is a powerful weapon to tackle debt and if we don't use it then the spending cuts would be over £13bn bigger," he said.
"When Labour was in government they accepted this, which is why [former Chancellor] Alistair Darling says he wanted to put up VAT. Now Labour is in opposition, Ed Miliband has shown weak leadership by jumping on the bandwagon of opportunism."