China-Africa trade set to keep on booming in 2011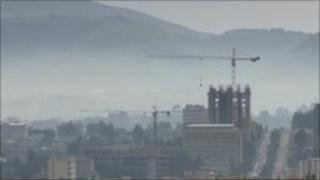 It has been a bumper year for commerce between China and Africa.
The Asian giant is hungry for resources to fuel its expanding economy - and many African nations are determined to feed it in order to trade their way to prosperity.
The boom in Sino-African trade has caused concern in some circles - but 2011 is expected to see business between the two hit record levels.
It is probably the biggest factor we have most noticed on our travels around the continent for Africa Business Report.
Ethiopia is a good place to see the impact of Chinese investment.
The capital Addis Ababa is a crowded, busy place - not surprising when you consider that Ethiopia is the second most highly populated country in Africa, home to an estimated 88 million people.
The city is alive with construction - everywhere you go you will come across building sites and cranes.
And much of that construction is being done by the Chinese.
Big potential
Despite the fact that Ethiopia is still a poor country, it is seen as having huge potential, which is why there is such strong investment coming in from China.
The new headquarters of the African Union - a prestige project - is being built by the Chinese - as are roads, bridges and other major projects around the country.
So far, so uncontroversial.
But when you look at another natural resource attracting attention from China - you get a bit more of a fuss.
Sore point
China - and others - are buying up vast tracts of land to grow food that is sent straight back home.
That has been fuelling resentment amongst Ethiopian farmers.
Agriculture is also proving a sore point elsewhere.
Zambian poultry producers complain that what started out as Chinese investment in the sector has now turned into direct - and unfair - competition.
"These Chinese, they came here as investors," complains one man. "But they are vendors."
The Chinese deny they have any unfair advantage and say they are helping to keep the Zambian poultry market healthy.
Investment questions
But it's not just the chicken farmers who are up in arms. There is growing anger about the growing presence of small-scale Chinese operators in the retail sector.
Andrew Chipwende, the head of the Zambian Development Agency, says action will be taken.
"What we'll be doing is developing some sector cords which are going to regulate which sectors are reserved for local businesses," he explains.
"So you'll find that what are described as 'survival' businesses, such as serving at the market, running a hair salon or running a taxi, those are bound to be reserved for Zambians."
Questions persist about the wisdom - and ethics - of the deals being done.
It is suggested by some critics that many Chinese companies bring in their own workers yet pay their wages to banks in China, thus limiting the actual flow of cash into Africa.
They also suggest that their skills are not being passed on to African workers and that workers' rights are not properly observed.
Yet some observers say they are detecting a new willingness from China to observe international standards on environmental and labour law practices.
Another bumper year
China expects trade with Africa to exceed $110bn (£71bn) in 2011 and technology could be the new frontier.
One who thinks that will be so is Edward George, who specialises in African affairs at the Economist Intelligence Unit.
"That's probably one of the biggest potential growth areas in Africa," he says.
"We've seen explosive growth in mobile communications in the last ten years. Africa has just had a brand new fibreoptic backbone installed across the continent. So this means development of 3G services, internet over the mobile phone.
"Chinese firms could clearly lead this effort across Africa. But they're going to have to look over their shoulder as you've had the Brazilians and the Indians who've made large investments".
Africa is determined to continue its quest for development - and China is equally determined to fuel its surging economy.
This relationship can only grow in importance.