Savings protection limit increases to £85,000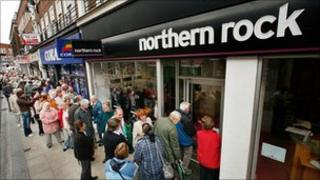 The compensation limit for people who lose money if their bank, building society or credit union goes bust, has increased from £50,000 to £85,000.
The new limit starts on Friday and applies to every customer at each authorised firm.
The new limit is part of a Europe-wide requirement for each country to offer compensation equivalent to 100,000 euros.
Compensation will be paid by the Financial Services Compensation Scheme.
The Financial Services Authority (FSA) said the new higher limit would cover the "vast majority" of UK savers.
Crisis
At the start of the banking crisis in 2007 the maximum payout for depositors was just £31,700 per person, made up of 100% of the first £2,000 and then 90% of their next £33,000.
When the Northern Rock bank went bust that year it became obvious that this limit was not high enough to reassure savers, who were then staging a crippling run on the bank.
The government stepped in to announce a 100% government guarantee for all savers' money in the Northern Rock.
In October 2007 the FSCS limit was raised to £35,000 and then again a year later to £50,000.
However as the financial crisis gathered pace in 2008, the practical policy of a 100% government guarantee was extended to savers in other banks that became insolvent or were in danger of becoming so.
These were the Bradford & Bingley and then the Icelandic internet banks Icesave and Kaupthing Edge.
The formal 100% government guarantee for the Northern Rock's savers was brought to an end in May 2010 after the bank had been nationalised and then split in two.
Reassurance
The government has not said if it would step in again and offer blanket compensation for savers if another UK bank went bust or appeared to be in danger of doing so.
The authorities hope that the revamped FSCS rules, which will be the subject of a publicity campaign in early 2011, will be enough to stop another run on a bank.
As well as offering higher compensation payouts, the new rules aim to give most claimants their money much faster than before - within seven days and the rest within 20 days.
Payouts will also no longer be reduced by the amount of money that a saver might also owe their savings institution - for instance by the size of a mortgage or other loan.
However temporary rules in place since 2009, which gave separate protection to savers with money in two merged building societies, have now ended.
The new FSCS rules apply to all members of the European Economic Area - the EU plus Iceland, Liechtenstein and Norway.