Wikileaks' Visa payments suspended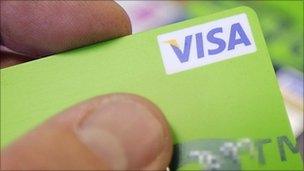 Visa Europe has begun suspending payments to whistle-blowing website Wikileaks ahead of carrying out an investigation into the organisation.
It follows a similar move by rival payments processor Mastercard on Tuesday.
Visa's announcement comes after Wikileaks' founder Julian Assange was arrested by police in London.
Mr Assange, whose website has published secret documents, is wanted in Sweden on sexual assault allegations.
Wikileaks relies on online donations to fund its operations, which will now not be possible using both Visa and Mastercard debit and credit cards.
A spokeswoman for Visa Europe said its investigation would determine the nature of Wikileaks' business, and "whether it contravenes Visa operating rules".
She added that Visa Europe could not suspend payments to Wikileaks immediately, and that the process took a certain amount of time.
Mastercard said in its statement that it was "in the process of working to suspend the acceptance of Mastercard cards on Wikileaks until the situation is resolved".
Online payment firm PayPal and internet giant Amazon have also cut their links with Wikileaks in recent days.
Related Internet Links
The BBC is not responsible for the content of external sites.