What 2011 could mean for small firms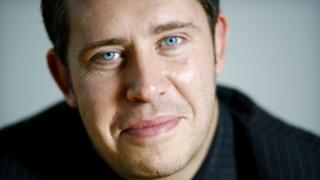 Barry Houlihan has had to quit the small business sector. He is going multinational instead.
The 39-year old is co-founder and chief executive of UK mobile and digital communications business Mobile Interactive Group (MIG).
MIG was last month judged to be the fastest growing technology company in the whole of Europe, the Middle East and Africa.
Coming top of the Deloitte 2010 Technology Fast 500 EMEA (Europe, Middle East, Africa) rankings, MIG's revenues are expected to top £100m next year.
That is not bad for a company that was only set up in 2004, and still employs just 160 people.
Specialising in a range of technologies, such as developing smartphone applications, mobile phone billing systems, mobile marketing and advertising solutions and more, MIG's customers include O2, ITV, Marks & Spencer, Walkers, Vodafone and Barclaycard.
While Mr Houlihan freely admits that the company benefits from being in a fast-growing industry, he puts MIG's market-leading success down to its workforce.
"We've got a very talented team, the best minds and thinkers in terms of mobile," he says.
"And as a company we have a very clear vision of where we are going."
'Unprecedented problems'
Although MIG's turnover means the company has grown out of the Small and Medium-Sized Enterprise (SME) sector, enabling more of the UK's SMEs to achieve even a fraction of its growth would give the country's economy a major boost.
Especially when you remember that there are 4.8 million SMEs in the UK, and that they account for 60% of all private sector jobs.
But after the recession of 2008 and 2009, and muted economic growth of 2010, what can the government and the banking sector do to make things easier in 2011?
And how much of an effect will the government's spending cuts have?
Russell Lawson, spokesman for the Federation of Small Businesses (FSB), says much more still needs to be done to help small firms.
"Small businesses are still facing unprecedented problems in accessing affordable finance and winning healthy public sector contracts," he adds.
"The continuing problem is late payments. It is making the situation even worse for the UK's SMEs."
To help small firms, the FSB is calling on the government to carry out a number of measures, including forcing the banks in which it had to bail out (RBS and Lloyds) to return to 2007 lending levels, a cut in VAT to 5% in the construction sector, and extending the National Insurance Contributions (NICS) holiday scheme.
Under NICS, newly established small firms outside of London and the South East and East of England do not have to pay national insurance contributions for their first 10 employees in their initial year of business.
The FSB also wants small firms to have additional assistance in bidding for public sector contracts, contracts it fears will be much more scarce as local authorities have to cut their budgets.
Mr Houlihan of MIG thinks the government should reduce the taxes that firms of all sizes have to pay, and help make credit easier to access.
'Best environment'
Business and Enterprise Minister Mark Prisk, told the BBC that as a former small business owner himself, he understands the challenges small firms face.
"I see my job as helping to create the best environment for small businesses to expand and grow," he says.
To help small firms gain the finance they need, Mr Prisk says the government has decided to extend the Enterprise Finance Guarantee (EFG) scheme for another four years.
EFG is designed to enable businesses to secure loans of between £1,000 and £1m, repayable over 10 years. The government guarantees 75% of the loan, with the banks covering the remaining 25%.
The government is also continuing the Enterprise Capital Fund programme, which aims to give small firms access to venture capital investment.
Mr Prisk further highlights the government's decision to reduce the rate of corporation tax that small firms have to pay to 20%.
Perhaps unsurprisingly, the Labour opposition says the government should still be doing a lot more.
Shadow Business Secretary John Denham says: "The government's VAT rise will hit smaller businesses particularly hard, and it's done little to get lending going from banks.
"But the real question is how will the government support growth? This is a government without a plan for growth - that is bad for business and bad for jobs."
Welsh picture
But with business support being a devolved matter, what is the situation like in Wales, Northern Ireland and Scotland?
Looking at Wales, Brian Morgan, professor of entrepreneurship at the University of Wales Institute Cardiff, says the Welsh Assembly Government (WAG) should be boosting capital spending to help companies of all sizes.
"Many of us have been saying to the Welsh Assembly Government that they should be increasing spending on building projects and improving road and rail infrastructure," he says.
"This would help greatly reduce the impact of local authority spending cuts, but instead we are seeing a large shortfall in capital spending.
"At the same time they are shovelling hundreds of millions of pounds into supporting Welsh students to avoid having to pay tuition fees. This money would be much more beneficial to the wider economy if it was spent on capital spending."
A WAG spokesman counters that creating the right environment for SMEs to thrive is at the heart of its new approach to economic development.
He highlights its work to roll out super-fast broadband across Wales, cutting planning and regulation red tape, increasing small business access to research and development, and better targeted business support.
Loan demand
Yet for all the business support in the world, small firms will still struggle if they cannot access banking credit - loans and overdrafts.
The monthly figures this year from the British Bankers Association (BBA) show that new lending levels to small firms from January to August were all below those in 2009.
However, the BBA continues to stress that this has much more to do with demand than supply.
And lending to small firms in September - the most recent figures - finally returned to 2009 levels, with £564m of new funding being authorised, representing more than 10,000 loans being granted.
Peter Ibbetson, small business chairman at NatWest and Royal Bank of Scotland, says he expected demand for small business loans to rise next year.
"Many SMEs have been in survival mode, and will have exhausted all credit lines, so there'll be demand for working capital as they look to restock and re-staff," he says.
"Whether SMEs are looking to regroup or invest, we have the funds available to meet demand from credit-worthy businesses for the year ahead."
While some business people still complain that they face a struggle getting banking credit, MIG's Mr Houlihan is not one of them.
"After we were presented with the Deloitte award, we had about a dozen banks come to our table and queue up to talk to us," he says.