Company tax avoidance clampdown 'could raise £2bn'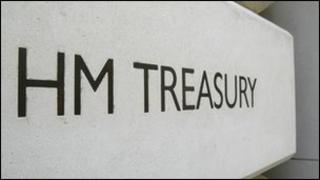 The government has announced a clampdown on tax avoidance measures which it says could help raise an extra £2bn over the next four years.
The Treasury said the measures are a "necessary step to protect the exchequer and maintain fairness for the taxpayer".
The government has also launched a study into the possible introduction of a general anti-avoidance rule (GAAR)
But business groups have warned this could make the UK more uncompetitive.
The government announcement comes at a time of widespread protest against tax avoidance by big companies.
Two new measures will be brought in with immediate effect.
The first will tackle groups of companies who manipulate intra-group loans or derivatives to reduce their corporation tax bills.
The second will deal with schemes where a company does not include taxable loans or derivative contracts in its accounts.
"As a result of persistent avoidance using derecognition schemes, the government is announcing that the legislation will now apply... wherever a company is a party to tax avoidance arrangements and... amounts are not fully recognised in its accounts," said Treasury minister David Gauke.
There are further measures in the pipeline to counter:
the use of trusts to avoid paying income tax or national insurance on an employee's pay
the creation of foreign exchange losses or gains in the accounts of investment firms
the manipulation of VAT rules in so-called "supply splitting".
Tax avoidance rule
The study into whether to introduce a general tax avoidance rule or GAAR will have a number of considerations.
It will examine whether a GAAR could put companies off tax avoidance as well as minimising the negative effects and costs to businesses.
But the CBI has already been critical of the concept.
"We believe [the introduction of a GAAR] that this would not be in the interest of the government, taxpayers, or UK competitiveness," said Will Morris, head of the CBI's tax committee
"It would introduce a very unwelcome element of uncertainty to the tax system."
Jane McCormick, head of corporate tax at accountancy firm KPMG, said: "The problem with GAARs is that they sound great in principle - simple, effective, catch-all measures, but in practice they can be very difficult to implement effectively."
"Indeed GAARs or similar rules are increasingly common overseas but other jurisdictions' experiences do not bode particularly well for the UK," she added.
Graham Aaronson QC will lead the study into the viability of such a scheme and will report by 31st October 2011.