Car sales slowdown continues despite impending VAT rise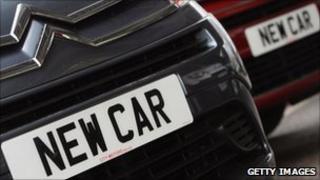 Sales of new cars in the UK fell for the fifth month running in November, despite the looming VAT rise.
Registrations were down 11.5% versus a year ago, according to the Society of Motor Manufacturers and Traders (SMMT).
However, fleet cars sales rose 6% as companies sought to beat the January rise in VAT to 20%, and the SMMT said the 26% fall in private sales was less than expected for the same reason.
The government's Scrappage Incentive Scheme inflated sales last year.
The programme expired in May this year, and since July sales have been consistently below those recorded during the scheme's year-long operation.
Stripping out previous car sales linked to the scrappage scheme, the SMMT claimed in its November report that underlying sales were actually up 14%.
'Challenging' outlook
"Registrations are expected to fall next month, but demand may benefit from motorists looking to avoid the January VAT rise," said Paul Everitt, SMMT's chief executive.
"Next year will continue to be challenging as consumer spending tightens and the government's austerity measures take effect."
The SMMT expects car sales to be up 2% overall this year - thanks in part to a relatively strong December - but to then fall 5% next year.
However, David Raistrick, automotive partner at accountants Deloitte, played down the chances of a pre-VAT sales rush, saying he expects December figures to remain flat.
"Today's figures are a stark reminder of the challenges that lie ahead for the motor industry into 2011," he said.
"As consumer and business confidence remains unsettled, it is doubtful that either private or business sales will grow in the new year."
Meanwhile, diesel car sales continue to overtake those of petrol cars, accounting for 53% of the market in November, and 46% for the year to date.