Angela Merkel resists eurozone bond and debt proposals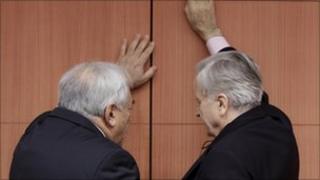 Germany looks likely to block moves that some eurozone partners and the International Monetary Fund argue could help resolve Europe's debt crisis.
Pressure is growing on the eurozone to raise the financial safety net for banks and to create a joint government bond to reduce borrowing costs.
But Germany's Chancellor Angela Merkel dismissed both proposals on Monday.
Her comments came hours before a meeting of eurozone finance ministers to discuss the bloc's debt problems.
IMF chief Dominique Strauss-Kahn believes the 16-nation eurozone should boost the 750bn- euro (£635bn; $1trillion) rescue fund, known as the European Financial Stability Facility.
Belgian Finance Minister Didier Reynders said over the weekend that eurozone countries should increase the fund.
The issue is one of several topics on the agenda at this evening's meeting, but Germany has already set out its position.
Ms Merkel told a press conference in Berlin that she saw no need to boost the bail-out fund, which is unpopular in Germany because of the size of the country's commitment.
E-bonds
She also dismissed calls for the single currency bloc to establish its own joint government bond.
Supporters of E-bonds argue they would help protect eurozone countries from speculation and attract new capital flows into the region.
Some countries, such as Greece and the Irish Republic, have seen investors drive their borrowing costs so high that it has become very difficult to access much-needed funds on the open markets.
Key proponents of E-bonds are Jean-Claude Juncker, Luxembourg's prime minister and chairman of the eurozone finance ministers group, and Giulio Tremonti, Italy's finance minister.
They set out their argument in an article in the Financial Times, calling for the creation of a European Debt Agency (EDA) to issue what they say would be secure, highly-rated bonds.
They wrote: "The European Council could move as early as this month to create such an agency, with a mandate gradually to reach an amount of outstanding paper equivalent to 40% of the gross domestic product of the European Union and of each member state.
"We believe this proposal provides a strong, credible and timely response to the ongoing sovereign debt crisis," the pair wrote.
But Germany believes the current system, under which countries issue their own bonds, imposes some fiscal discipline on members - and punishes them when they step out of line.
The German chancellor said: "Competition on [bond] interest rates is an incentive to respect stability criteria... It is our firm conviction that the [EU] treaties do not allow joint eurobonds."