UK manufacturing 'powering ahead'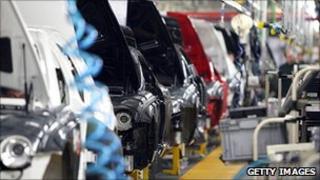 The UK manufacturing sector is in rude health, thanks in large part to strong demand from overseas customers, an industry survey suggests.
The Engineering Employers Federation says the sector will outperform the rest of the economy next year.
However, the group says further expansion will depend in part on continued recovery in overseas markets.
Meanwhile, business group CBI has called manufacturing the "unsung hero" of the UK economy.
'Record output'
After surveying more than 500 leading firms, the Engineering Employers Federation (EEF) said manufacturing firms were "powering ahead" by recruiting new staff and investing in their businesses.
"Manufacturers are ending the year on a high and should enter 2011 on a strong footing," said the group's chief economist Lee Hopley.
"The survey has shown record responses on output and orders for much of this year and, if this continues, we should see exports and investment delivering better balanced growth across the economy."
However, he added that firms were struggling to find enough skilled workers and were facing rising input costs.
He also sounded a note of caution about the wider economic recovery, which he called uncertain.
Government role
The CBI also argued manufacturing is "well placed to lead the country's recovery".
"UK manufacturing is in many ways the unsung hero of our economy," said John Cridland, the group's soon-to-be director general.
"Big productivity gains in the past 10 years have made it leaner than ever before."
However, he said the government needed to play its part in the sector's continued revival.
It must create a tax and regulatory environment to help manufacturers double the growth rate of exports by 2020, he said.
Spending cuts
Last week, a closely-watched survey suggested the UK manufacturing sector grew at its fastest rate for 16 years in November, with a record rise in employment.
The government has stressed the need for exports to play a greater role in future economic growth, particularly in light of its spending cuts and tax rises that are expected to hit consumer spending.
Manufacturing currently accounts for about 13% of the UK's total economic output.