US South Korea free trade deal a 'win-win'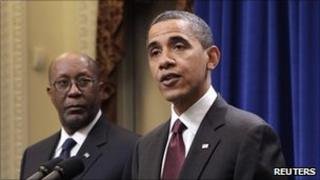 Both the US and South Korea have hailed their long-awaited free trade agreement negotiated this weekend as a "win-win" deal.
However, the final pact, which was originally signed in 2007 but never ratified, has been heavily criticised by South Korean opposition parties.
They branded the compromises made by Seoul "humiliating and treacherous".
The deal needs parliamentary approval in both countries before it can be finally ratified.
President Barack Obama said on Saturday the agreement "includes several important improvements and achieves what I believe trade deals must do. It's a win-win for both our countries".
South Korean Trade Minister Kim Jong-Hoon also described the deal as a "win-win".
Negotiations on the free trade deal broke down in the run-up to last month's G20 meeting of leading economies in Seoul.
Car tariffs
A key sticking point to the 2007 deal were tariffs imposed by South Korea on US car imports.
But a compromise was agreed - the US will lift its 2.5% tariff on South Korean cars after four years, while South Korea will halve its 8% tariff with immediate effect, before lifting it in four years.
South Korea also agreed to allow the US to export up to 25,000 cars a year that do not meet its more stringent safety requirements.
In return, the US agreed that South Korea could extend its tariffs on US pork imports for another two years.
The deal does not address US concerns about tariffs on its beef exports.
'Cheated'
The deal has proved deeply unpopular among opposition politicians in South Korea.
"We have been hit by the North with cannons and now we we're being hit by the US with the economy," said Park Jie-Won of the Democratic Party, referring to North Korea's recent shelling of a border island.
The Liberty Forward Party said the public had been "cheated by the deal".
"The concession garnered in the livestock products was not significant, so it was a deal that failed to meet national interests," said the party's Kwon Sun-Taik.
Boosting exports
President Obama hailed the deal on Saturday as "essential" for boosting US exports.
"The agreement will contribute significantly to achieving my goal of doubling US exports over the next five years.
"In fact, it's estimated that today's deal will increase American economic output my more than our last nine trade agreements combined," he said.
Domestic consumption currently accounts for more than two-thirds of the US economy, and Mr Obama is keen to re-balance the economy by increasing exports.
This is also a key strategy in securing a sustainable recovery from the downturn.
The US recovery remains fragile, with disappointing unemployment figures released on Friday contributing to concerns that the world's largest economy is struggling to shake off the recession.