US deficit plan gets cross-party backing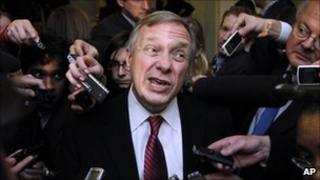 A Congress committee's deficit reduction plan has been backed by both Republican and Democrat members, but not enough to put it to a vote.
Eleven of its 18 members - more than expected - have come out in favour of the plan to save $4tn (£2.5tn) from the federal budget over 10 years.
Backers included Democrat Dick Durbin, a liberal and a close ally of President Barack Obama.
A majority of 14 would have been needed to force a Congressional vote.
Agenda setting
Despite failing to secure enough support to go to a plenary vote, analysts say that the cross-party support for the plan means it is likely to influence President Obama's next budget, due in February.
Among the plan's proposals are:
gradually increasing the Social Security retirement age from 67 to 69 and the amount of income subject to the tax, while cutting retirement payments to wealthier Americans
lower annual increases for Medicare and Medicaid, the federal healthcare programmes
limiting medical malpractice lawsuits, a long-time Republican goal
a 15% cut to the White House and Congress budgets
trimming government payrolls by replacing fewer who leave
a 15-cents-per-gallon federal tax on petrol to fund transport investment
cutting tax breaks for health insurance and mortgage interest payments
cutting child tax credits
lower corporate and income tax rates
eliminating corporate subsidies in the US tax system
It comes days after President Obama proposed a two-year pay freeze for federal government workers as part of efforts to reduce the US budget deficit.
Dissenters
Seven committee members are thought to oppose the plan, including two republicans who criticised the fact that $1tn - a quarter of the plan's savings - would come from an overall increase in taxes.
Democrat opponents are concerned at the social security and healthcare cuts.
However, Congressman Durbin gave his backing, saying: "If we don't act now - if we pass this issue on to another Congress, another generation - the tough choices we face now only get tougher."
The $4.1tn expected savings over 10 years compare with a current US deficit of $1.3tn.