Rio Tinto agrees Chinalco mineral tie-up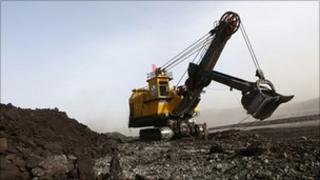 Mining giant Rio Tinto has agreed a tie-up with Chinalco to explore for mineral deposits in China.
The deal gives the Chinese state-owned firm a 51% stake in the joint venture, with Rio taking a 49% stake.
This is the second deal between the two miners after they agreed in March to develop jointly an iron ore mine in West Africa.
Relations between the two soured last year when Rio walked away from a $19.5bn (£12.1bn at the time) tie-up.
"This exploration joint venture is the latest chapter in the rich history of partnerships between Rio Tinto and China," said Rio's chief executive Tom Albanese.
"The combination of skills provided by Rio Tinto and Chinalco offers great potential to unlock value for mutual benefit."
The joint venture is expected to begin work in the first half of next year, targeting between three and five projects initially, Rio Tinto said.
Chinalco president Xiong Weiping said the tie-up was a "win-win measure that will deepen our co-operation and meet the challenges of the market".
Rio Tinto also announced an extension of its joint venture with Sinosteel Corporation in Western Australia, designed to allow for a further 50 million tonnes of iron ore to be produced in the Pilbara region.
The original agreement was signed in 1987.