Snow causes distribution problems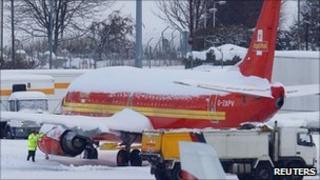 Delivery firms, retailers and petrol suppliers say snow across the UK has hampered services.
Royal Mail has suspended its guaranteed next day delivery service while Amazon is among retailers warning items will be delayed.
And a group representing some petrol stations said there were difficulties getting fuel to some areas - mainly in parts of Scotland.
But with fewer vehicles on the road, demand for fuel has fallen.
'Huge backlog'
Royal Mail said that more than 90% of postal delivery rounds went out on Thursday with the "vast majority" of branches open.
Additional trucks and rail services had also been used to move mail to distribution centres as close as possible to the area for delivery, it added.
"I apologise to those customers who have experienced delays to their deliveries as a result of the severe weather," said Royal Mail's managing director, Mark Higson.
One parcel carrier, Global Freight Solutions, said the weather had caused a "huge backlog" in shipments and that it had some three million parcels awaiting delivery.
Online retailer Amazon website warned that deliveries may be delayed by one or two days for customers living in a snow-affected area.
And it said it could give no indication of when normal services would resume.
'Impact'
"Challenging" road conditions were making it difficult to supply petrol and diesel to some areas , even though the refineries themselves were operating without major disruption the government warned.
"Fuel supply companies are working hard to maintain supplies of road transport fuels but are facing challenging conditions in some parts of the country," a Department of Energy and Climate Change spokesman said.
But they added road transport demand should be low due to the weather conditions.
The Independent Petrol Retailers Association said that up to 500 independent petrol retailers in Scotland and the east of England risked running out of petrol and diesel by the weekend.
Filling stations in rural areas away from the main trunk roads were particularly vulnerable, it said.
BP also said that parts of Scotland had been worst hit with deliveries of petrol to stations from Grangemouth in Scotland "severely impacted" by the bad weather.
Shell said it had kept "the vast majority of our company owned petrol stations stocked" and that would continue to deliver fuel when it was considered safe to do so.
And Tesco, one of the UK's biggest petrol retailers said that all its tankers were operational and that no stations were closed or reporting shortages.
Like other supermarkets, Tesco reported no problems with food supply shortages or of panic buying.
However, big chains did report a surge in business. Marks & Spencer said there had been a 121% increase in demand for thermal clothing in the past week.
Meanwhile Asda said it had sold about 100,000 units of de-icer for car windows.
Global Insight analyst Howard Archer said that the timing of the weather was "particularly bad and worrying for retailers in particular".
"The crucial Christmas shopping period is now getting into full swing and an extended period of people not being able to get to the shops could be highly damaging for them," he said.