Alcohol sales to fall this Christmas, says report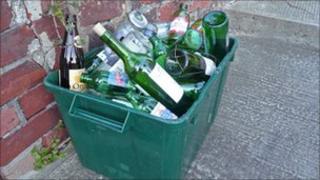 Alcohol sales this Christmas in the UK are forecast to drop sharply after new figures revealed the extent of falling consumption over the past few years.
Research group Mintel said that in each October-to-December quarter between 2000 and 2009 alcohol spend has fallen.
In 2009 as a whole, it fell a huge 9% to £37bn, from £40.5bn in 2008, which Mintel said does not bode well for 2010, when consumer spending is tight.
Since the economic slump, sales have plummeted, said Mintel's Jonny Forsyth.
In real terms alcohol spend in the October-December period has declined from £11.5bn in 2000 to £10.4bn in 2009, costing the industry more than £1bn in lost revenue.
Mr Forsyth, Mintel's senior drinks analyst, said: "Over the past decade, Christmas has become steadily less profitable for the alcohol industry.
"However, since the economic downturn, sales have plummeted further and Mintel forecasts that Christmas 2010 is likely to see this downward trend continue.
"Research shows that apart from the optimistic young adults, the bulk of consumers are decidedly pessimistic about their financial situation improving over the next six months, suggesting that the alcohol market is in for a difficult Christmas," Mr Forsyth said.
The VAT increase and above-inflation excise duty increase planned for 2011 will also raise the cost of most alcohol drinks by as much as 8%, the report said.
Mintel found that wine is top of the shopping list for Britons when it comes to Christmas alcohol, with the top five drinks purchased being: wine (65%); lager (51%); champagne/sparkling wine (33%); vodka and liqueurs (both 24%).