Gender pay disclosure plans eased by coalition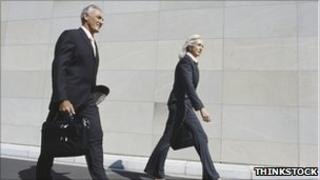 The government has altered plans set out by the previous Labour administration to force companies to disclose the differences in pay between the men and women they employ.
Labour had given firms until 2013, after which they would have come under pressure to publish pay details.
The coalition government has said firms will now only have to publish these details on a voluntary basis.
Employment unions criticised the Home Office's stance.
'Fairness test'
Under the government's new equality strategy, it will now only ask firms to publish pay data on a voluntary basis.
The Equality Act 2010 had included a clause allowing the government to force businesses to measure and publish gender pay data.
The Home Office told the BBC that this clause was not currently being implemented, but that it would monitor voluntary reporting to see what effect on gender pay it has.
"We want to move away from the arrogant notion that government knows best, to one where government empowers individuals, businesses and communities to make change happen," said Equalities Minister Lynne Featherstone.
But unions said the measures were a backwards step.
"The government fails the fairness test and is stripping down its commitment to equality," said Dave Prentis, general secretary at Unison.
"It is a disgrace that women are still getting paid less than men. This move threatens to turn the clock back on all the progress already made with equal pay."
At the beginning of October, the new Equality Act came into force in England, Wales and Scotland, with new rules aimed at banning discrimination by employers, covering areas such as age, disability and pay.
Some business groups criticised the legislation for putting a heavy burden on employers.
And observers say the decision not to force companies to disclose pay suggests the government has listened to such groups.
"This is bound to limit the overall rate at which pay inequalities are addressed in the UK," said Matt Tom, employment partner at Candey LLP.
"Rather than take all effective steps to address pay inequality, it is clear that the government has given priority to the overall economic recovery, by reducing employers' administrative burdens."