Will snow chaos ruin Christmas for UK retailers?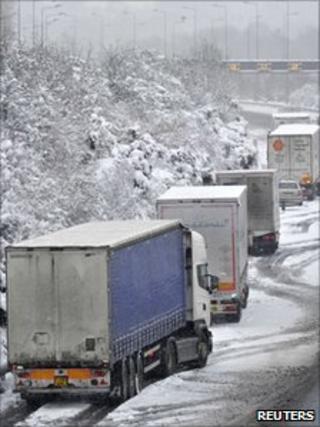 The heavy snow currently causing chaos in large parts of the UK could hardly have come at a worse moment for the country's hard-pressed retailers.
After struggling through a difficult year of economic recovery, bricks-and-mortar High Street shops and online retailers alike were looking forward to the Christmas shopping season.
But the poor weather conditions will undoubtedly prevent many people reaching the shops, while online firms will have trouble getting their goods delivered to their destinations.
So will people have trouble getting hold of presents? And what will that mean for shops' profits?
"While the disruption caused by the bad weather is not as bad - so far at least - as back in January, the timing is particularly bad and worrying for retailers in particular," says Howard Archer, chief UK and European economist at IHS Global Insight.
"The crucial Christmas shopping period is now getting into full swing and an extended period of people not being able to get to the shops could be highly damaging for them."
Travel trouble
The John Lewis store group, for one, has reported a noticeable decline in in-store trade as a result of the snow.
"Perhaps inevitably, John Lewis has seen an impact on sales in some of our shops where the weather has been particularly poor," the group's director of selling operations, Nat Wakely, told the BBC.
"John Lewis shops in the north of the country, and now some of those in the Midlands and south-east of England, have seen a fall in the number of customers venturing out to the shops."
At the same time, however, the firm's website has reported a rise in sales of nearly two-thirds this week compared with the same period last year, "as customers unable to travel opt to shop online".
That means the bad weather may merely be speeding up the growing trend towards virtual shopping - trawling the internet in comfort for your purchases instead of going out in the cold.
Delivery woes
Of course, once people have placed their orders via the web, they have to make sure they receive them in time for the festive season.
The UK's biggest online retailer, Amazon, has already begun displaying a prominent warning on its home page, alerting customers to possible delivery delays.
"If you are affected by the snow or live in a county affected, your delivery may be delayed by 1-2 days," Amazon's website says.
With no indications yet of an improvement in the weather, all Amazon can say about when normal services might be resumed is that, like the rest of the country, "we are monitoring the weather forecasts".
One parcel carrier, Global Freight Solutions, said the cold weather had caused a "huge backlog" in shipments.
It said there were about three million delayed parcels across the entire UK delivery network.
"With some of the country's roads almost impassable, there's little that carriers can do for the moment," said the firm's director, Simon Veale.
For its part, Royal Mail says it has had to withdraw, for the time being, its guarantee that Special Delivery items will arrive the next day, although they are still being treated with priority.
It adds that it has taken on additional lorries and rail services to try to reduce the impact of the disruption.
Consumers' gain?
As well as buying Christmas presents, consumers are also under pressure to bring forward big purchases in order to beat the impending increase in value added tax (VAT), which rises from 17.5% to 20% on 4 January.
The problem for retailers is that they may already have taken those additional sales for granted and be doubly disappointed if transport troubles keep shoppers at home.
But as in every crisis, there are winners as well as losers. Local corner shops should benefit as people venture out for basic items while staying as close to home as possible.
And Maureen Hinton, lead retail analyst at Verdict Research, points out that at least one supermarket chain, Tesco, saw this coming.
"It appears to be more prepared for winter than many government and local authority operations, with its investment in 150 snowploughs, 3,000 tonnes of salt and 350 trained staff," she says.
As long as the thaw comes in time for Christmas, consumers stand to benefit from the High Street's discomfort when they can eventually get to the shops.
In a truncated shopping season, shops will be seeking to compensate for lost time and sales by making their offers as attractive as possible.
"We expect to see lots of deep discounting in the run-up to Christmas as retailers attempt to clear the stock they should have sold during this period," says Maureen Hinton.