Brazil changes oil drilling rules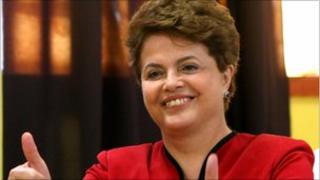 Brazil's Congress has modified laws relating to the country's oil sector which could increase development of its offshore oil fields.
The bill ensures that the state-run oil company Petrobras will have a 30% stake in any new joint exploration ventures in Brazil's offshore fields.
Exploitation of the reserves could turn Brazil into a global energy exporter.
President-elect Dilma Rousseff helped to draft the proposals while chief of staff in the current government.
Buried treasure
The oil fields off the coast of Rio de Janeiro state are estimated to hold more than 50 billion barrels of oil, buried some 7km (4.4 miles) under the ocean floor beneath a thick layer of salt.
Despite the difficult conditions, the area may prove too alluring to ignore for the world's oil giants.
Petrobras has unrivalled expertise in deep water drilling as almost all of its ventures are located in the south Atlantic Ocean.
In September, the company raised $70bn (£44.7bn) in the world's largest public share offering.
The offer was oversubscribed, with sovereign wealth funds from Middle East and Asia taking part.