Aid pledged to Europe's banks hits 4.5 trillion euros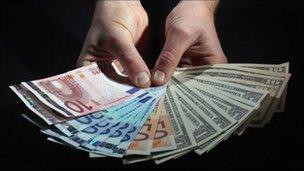 European Union states have underwritten their financial sectors with 4.5 trillion euros ($5.9tn; £3.8tn) of aid since the banking crisis hit.
Top of the league is the UK, which pledged 850.3bn euros of support between October 2008 and October 2010.
The figures come from the European Commission, which must approve state aid to the EU member countries.
The aid includes guarantees, asset relief, and grants, but only a quarter of the money has been drawn down.
Some 1.1tn was actually drawn down in 2009, according to national figures passed to Brussels. For 2008 it was 957bn euros.
About three quarters of the total 4.5tn approved was in the form of state loans or guarantees.
In the EU's league table of financial support (for 22 of the union's 27 members) the UK was closely followed by the newly bailed out Republic of Ireland, which pledged 723.3bn, and Denmark with 599.7bn.
Lithuania was at the bottom, with guarantees and grants worth 1.7bn.
The EC has imposed a framework aimed at phasing out aid for the bank sector, and intends tougher scrutiny of companies wanting money.
It said in a statement on Wednesday the EC said that from 1 January, "every bank requiring state support in the form of capital or impaired asset measures will have to submit a restructuring plan".
EU competition commissioner Joaquin Almunia said: "After almost two years of a specific crisis state aid regime, we need to prepare a gradual return to normal market functioning.
"Of course, the remaining risk of renewed stress is a valid reason to proceed with care and caution in the exit process," he said.
Excluding crisis-support for the financial sector, total aid approved by the EC for all member countries in 2009 - the latest figures available - was 73.2bn euros, about the same as 2008.
This included aid to industry and services worth 58.1bn euros.