Russia's defence industry fights for clients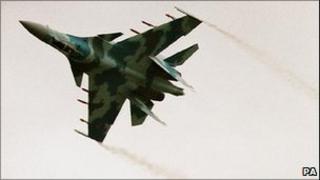 Russia's defence industry, one of the most prominent in the global arms sales market, has been put in the spotlight recently by two presidents.
Venezuelan leader Hugo Chavez announced that Russia had agreed to lend his country $4bn (£2.6bn) so that he could spend it on Russian-made weapons.
Moscow has not commented so far, but Russian Prime Minister Vladimir Putin said in April that Venezuela was thinking of ordering $5bn of weapons from Russia.
It was also reported a year ago that the Latin American state would borrow more than $2bn from Russia to purchase arms.
With a US arms embargo against Venezuela in place since 2006, Caracas has had strong incentives to deepen co-operation with other weapons makers, namely Russia, in order to re-equip its armed forces.
But the Russian army has also long been in need of modernisation.
Russian President Dmitry Medvedev said last month that his government was committed to maintaining its defence spending at the level of 2.8% of GDP until 2020, even at the expense of other budget programmes.
As a result, the process of properly re-equipping the army is expected to last until the early 2020s.
The 2010 Russian defence budget is expected to reach $40bn, or about 2.7% of GDP.
But does Russia have what it takes to remain a leading weapons exporter in future and provide for its army?
Military aid
According to Anatoly Isaykin, head of Russian arms exporter Rosoboronexport, the state-controlled company will sell abroad more than $10bn worth of weapons this year.
"Rosoboronexport currently exports several thousand military products, expanding arms sales by $500m-$600m each year," he said last month.
With $40bn in confirmed orders, Russia's current position in the arms sales market looks solid.
Richard Grimmet, a specialist in international security, said in a report for US Congress published last September: "Faced with a limited client base and stiff competition from Western arms suppliers in the post-Cold War period, Russia adapted its selling practices in an effort to regain and sustain an important share of the developing-world arms market."
If the Russian loan to Venezuela goes ahead, it will not be the first time that an arms-producing nation has provided the money for a client state to purchase its weapons.
Practices such as loans, credits and even donations are used all over the world, says Paul Holtom, director of the Arms Transfers Programme at the Stockholm International Peace Research Institute (Sipri).
He points out that the US, the ultimate leader of the weapons market, has special funds to help its clients buy US arms, including military aid to the Middle East.
Donations to other countries to be used for arms purchases usually come with a catch: you get your systems now, but then you will have to pay for future upgrade, modernisation and training and to purchase replacement parts.
'Pockets of excellence'
Sipri estimates that in recent years "the United States and Russia remained by far the largest exporters, followed by Germany, France and the United Kingdom".
But Konstantin Makienko, deputy director of the Centre for Analysis of Strategies and Technologies in Moscow, believes that US military exports are several times higher than those of Russia.
"It is pointless to compare any country with the US, when it comes to selling arms," Mr Makienko says.
From his point of view, it would make more sense to compare the Russian defence industry with the French one.
And there is definitely at least one reason for it, as Russia has been keen to buy the Mistral amphibious assault ship from France.
"Buying Mistrals from France is a damning sign for the [Russian] shipping industry," says Mr Holtom.
The Sipri expert believes that Russia understands the weaknesses of its defence industry, but stresses that it also has some "pockets of excellence".
Russian combat aircraft and air defence systems have been among those products in demand.
Importance of R&D
But Mr Grimmet believes that Russia has some important issues to solve.
"Military weapons research and development (R&D) programs exist in Russia, but other major arms suppliers have advanced much more rapidly in developing and producing weaponry than have existing Russian military R&D programs, a factor that may deter expansion of the Russian arms client base," he said in his report.
However, a lot depends on which sector of the Russian defence industry you are looking at.
For example, while the US is the only country so far to have a fleet of fifth-generation jet fighters, Russia have been developing them quite successfully as well.
The first Russian prototype, Sukhoi's T-50, performed its first flights earlier this year.
In some other sectors, which Russia sees as less competitive, there have been more co-operative arrangements with foreign partners and talks about licensed production deals, Mr Holtom says.
According to Mr Grimmet, "In the developing world, Russian military equipment has been competitive because it ranges from the most basic to the highly advanced."
If Russia succeeds in maintaining the breadth of its range in future, it could be easy for the country to hold on to its status as a leading arms exporter.
But the government will really have to stick to its promise of solid defence spending in order to achieve that aim.