Rio 2016 Olympic Games signs up its first sponsor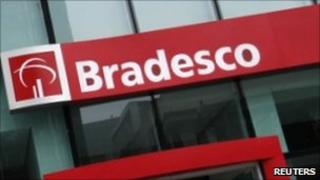 The 2016 Olympic Games in Rio have signed up their first domestic sponsor.
Brazil's second-largest bank, Bradesco, will pay at least $320m (£205m), which is the minimum sum set by the games' organising committee for the finance and insurance services categories.
Carlos Nuzman, organising committee and Brazilian Olympic Committee boss, said backing the games provided a "unique platform and incomparable opportunity".
The spotlight is on the games after violence erupted in Rio last week.
The army and the police have now retaken control of drug traffickers' strongholds inside a number of favelas, the shanty towns which dot Rio.
It follows a week of clashes between the security forces and drug dealers, which left at least 45 people dead.
But the Olympic Games organisers and their partners say they want to focus on a positive agenda.
"In the eyes of the world, it [the Rio Games] is going to be the celebration of Brazil with its positive agenda, modernity, work, social inclusion, and economic development," said Bradesco chief executive Luiz Carlos Trabuco.
Bradesco has been one of the strongest banks in Brazil since the 1950s, and was the country's biggest private bank until the merger of Banco Itau and Unibanco in 2009.
The deal will feature direct input of Bradesco resources and the offer of finance, banking and insurance during the games.
It also includes marketing rights connected with the Brazilian Olympic Committee.
More details will be unveiled on Thursday during the official launch of the games domestic sponsorship programme.
Further details of the arrangement are expected to be announced on 2 December, when the domestic sponsorship programme is officially launched.