Tata Nano car sales sink by 85%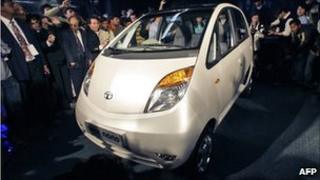 Sales of Tata Motors' Nano, the world's cheapest car, plunged by 85% in November compared with a year earlier, the Indian carmaker has said.
It blamed the slump on the difficulty potential customers had in accessing loans to buy the car.
However, analysts pointed out that a series of fires in the Nano, as well as price rises, had also affected sales.
Tata said its total sales across all models in November were 54,622, a rise of 1% on a year earlier.
The carmaker also said that sales of its Jaguar Land Rover-branded models "continued their upward trend".
Fire hazard
However, the company said it had sold just 509 Nanos during November.
During the month, Tata offered free safety upgrades for the model, which went on sale last year.
This came after owners of the hatchback reported about half a dozen fires since April last year. There were no injuries.
The Nano was introduced to India in April 2009 and there are now about 70,000 of them on the country's roads.
The basic Nano costs about 100,000 rupees ($2,205; £1,414).